Another record month, despite the craziness from Google's December Core Update. I just hit a big milestone in the last month of 2020.
First 5 Figure Monthly Profit – $10,009.21!

Highest Monthly Earnings – $11,073.21!
I don't expect this to continue in January 2021, even though I'd love for it to continue. I'm already seeing a dip in traffic and sales as I write this the first few days of January.
Now that the holiday sales are over and advertisers are starting a new year, revenues could take a big drop.
A 50% drop in revenues wouldn't surprise me. I hope it's not that much, but who knows. It'll be my first January with these sites since I'm in Month 7 now with these three sites.
With the Google Core Update, I got lucky as my main two case study sites didn't seem to get hit.
However, Site 3 got hit on Dec. 3rd with the initial update. But with the second update on Dec. 9th, the search impressions and rankings came back, and then some.
Let's look at the December numbers overall, then the numbers for each affiliate website individually, and next month's plans.
Monthly Profit & Loss Overview
Site 1

Site 2
Site 3
TOTAL
Pageviews
55,810
18,474
832
75,116
Amazon Associates Earnings
$4,141.59
$3,863.93
$64.92
$8,070.44
Ezoic Earnings
$2,660.13
$335.74
$6.90
(Started 12/13)
$3,002.77
Other Earnings
N/A
N/A
$0.00
$0.00
Total Earnings
$6,801.72
$4,199.67
$71.82
$11,073.21
Expenses
$902.50
$95.50
$66.00
$1,064.00
Profit / Loss
$5,899.22
$4,104.17
$5.82
$10,009.21
Site 1 actually dropped in traffic and earnings, but Site 2 helped to make up for that drop.
Site 2 increased traffic and with that, Amazon affiliate earnings more than doubled!
Site 3 has a new revenue source – Ezoic display ads. When I saw that more pages were getting higher in the rankings, I put display ads on it to see if I could make a few extra dollars, which it did. The nice thing is that the earnings cover the $6 cost of Vultr web hosting.
Let's get into each affiliate website's recap and website metrics.
Site 1 – Recap And Income Report Breakdown
Dip in traffic and earnings for Site 1 in December after the November Black Friday rush. I'm not complaining though as it's still over 5x the earnings just two months earlier in October.
| SITE 1 | OCT. | NOV. | DEC. |
| --- | --- | --- | --- |
| All User Sessions | 12,431 | 65,622 | 51,080 |
| All Users Pageviews | 13,313 | 71,997 | 55,810 |
| Organic User Sessions | 10,537 | 63,358 | 49,010 |
| Organic Pageviews | 12,585 | 69,332 | 53,444 |
| Amazon Affiliate Earnings | $845.62 | $5,074.47 | $4,141.59 |
| Ezoic Ad Earnings | $355.76 | $3,526.25 | $2,660.13 |
| EPMV | $26.59 | $50.32 | $49.15 |
| Total Revenue | $1,204.38 | $8,600.72 | $6,801.72 |
| Total Costs | $970.60 | $1,451.26 | $902.50 |
| Monthly P&L | $233.78 | $7,149.46 | $5,899.22 |
Was a pretty quiet month with Site 1 updates as I put the main focus on Site 2 in December. I did get some articles from writers early in the month, but haven't gotten around to editing and publishing them yet.
The Niche Website Builders team continued the Shotgun Skyscraper link building. It's been a mostly positive experience so far.
I've started my write-up reviewing the experience with them and hope to finish it soon, but here are some metrics from the backlink campaign on the Budget Plan priced at $795:
$2,305.50 spent

Month 1, NWB writing Skyscraper article = $715.50 (10% discount off $795 from an affiliate link)
Months 2+3, NWB link building = $1590

21 live backlinks built
38.7 average DR
$109.76 average price per link counting costs for all 3 months

$75.71 avg. price per link if only counting the 2 months of link building
Site 1 Google Analytics Traffic
Traffic dropped to 55,810 from the all-time high of 71,997 last month in November.
The drop in traffic wasn't surprising as November had an insane run during Black Friday and Cyber Monday that hit a high of 8,599 pageviews on Fri., Nov. 27th. You can see at the beginning of December that traffic was still high on Dec. 1st.
There was an interesting traffic spike on Christmas Day. I talked to others and many also saw the spike. Seemed like many people were home with the COVID-19 coronavirus pandemic, so more people were surfing the Internet. That would also explain the low shipment numbers from Amazon, even though orders were strong.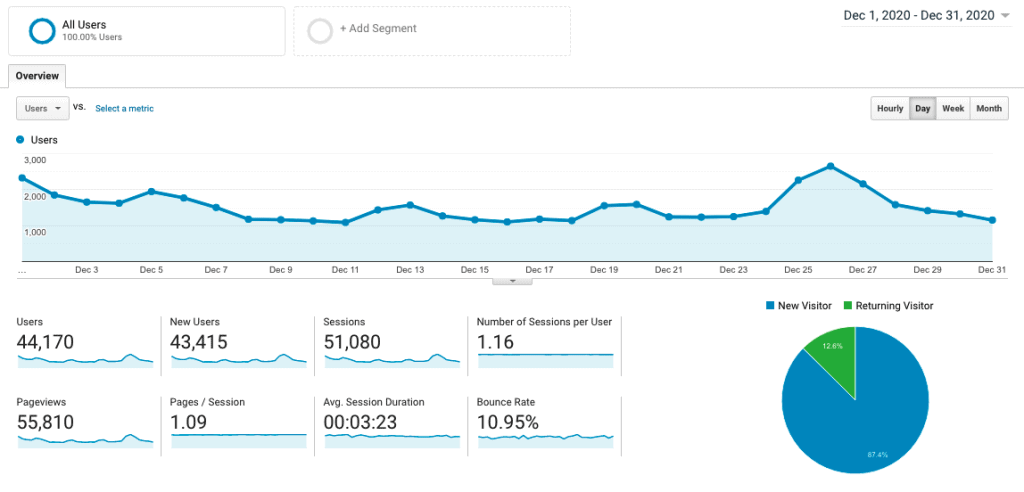 I'm not sure what to expect for January, so we'll see how it goes.
Site 1 Amazon Affiliate Earnings
These are just the US Amazon sales, which is where the majority of sales are from. There isn't a way to show all the countries together in a chart like this, that I've found.
December continued the holiday sales with Christmas Eve and Christmas Day being the lowest in earnings with $30.01 and $10.25 on each day, respectively. Those were the only two days earning under $100 for the day.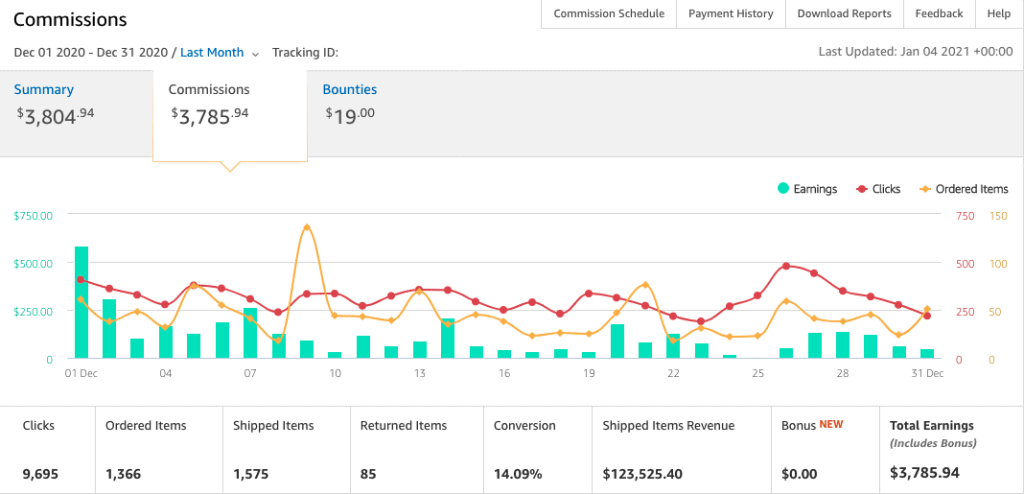 Dec. 1st was the highest by far with $732.78 earned, but some of that is due to Cyber Monday sales on Nov. 30th and items not being shipped until Dec. 1st.
I'll be interested to see how Q1 goes. I do expect a post-holidays slowdown at least in January.
Site 1 Ezoic Earnings
Display ads is where I'm truly excited to see how things play out. If you look at the chart below, you'll notice a darker green portion in the far-right part of the chart.
That's Ezoic Premium ads! I finally got the invite and joined.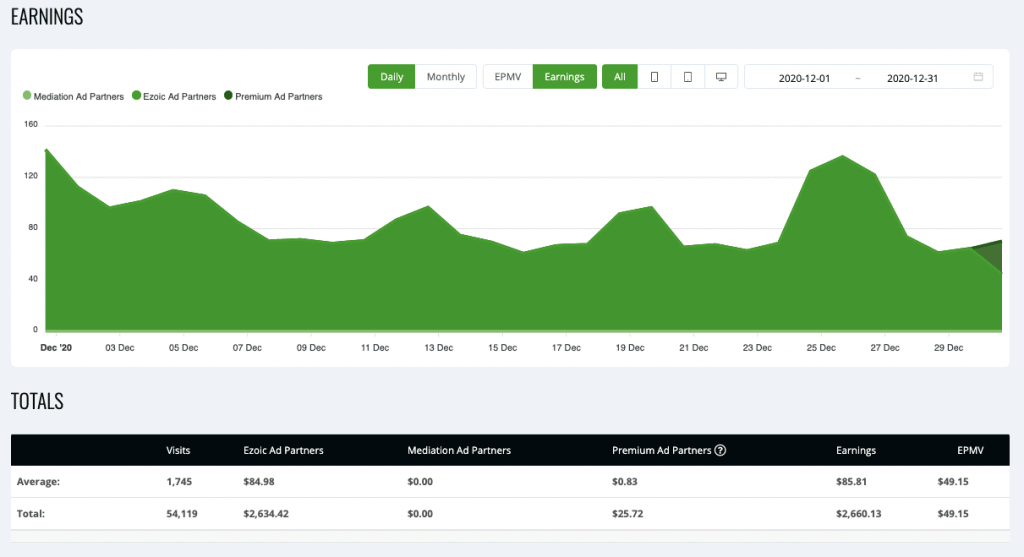 Here's the invite that I received as a pop-up when I logged into Ezoic.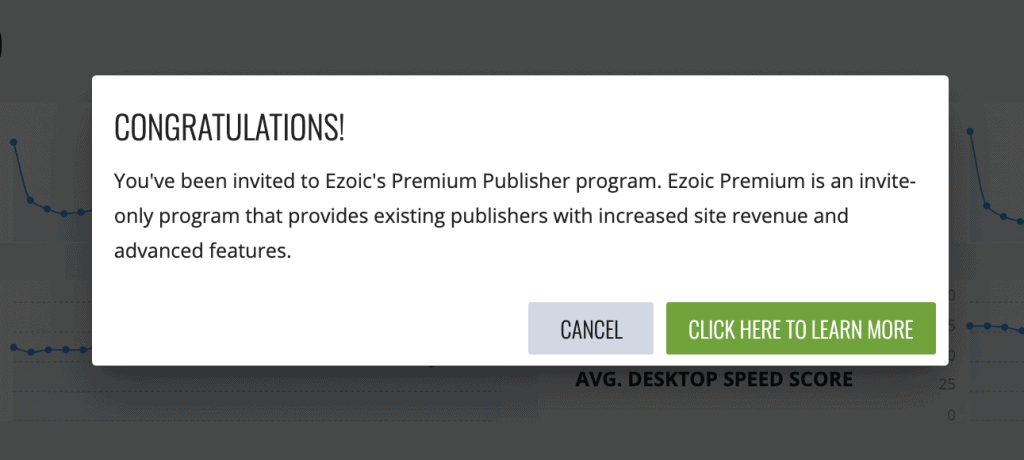 After I clicked on the "Click Here to Learn More" button, it took me to the Premium Plan page and offered the Elite Diamond package to me.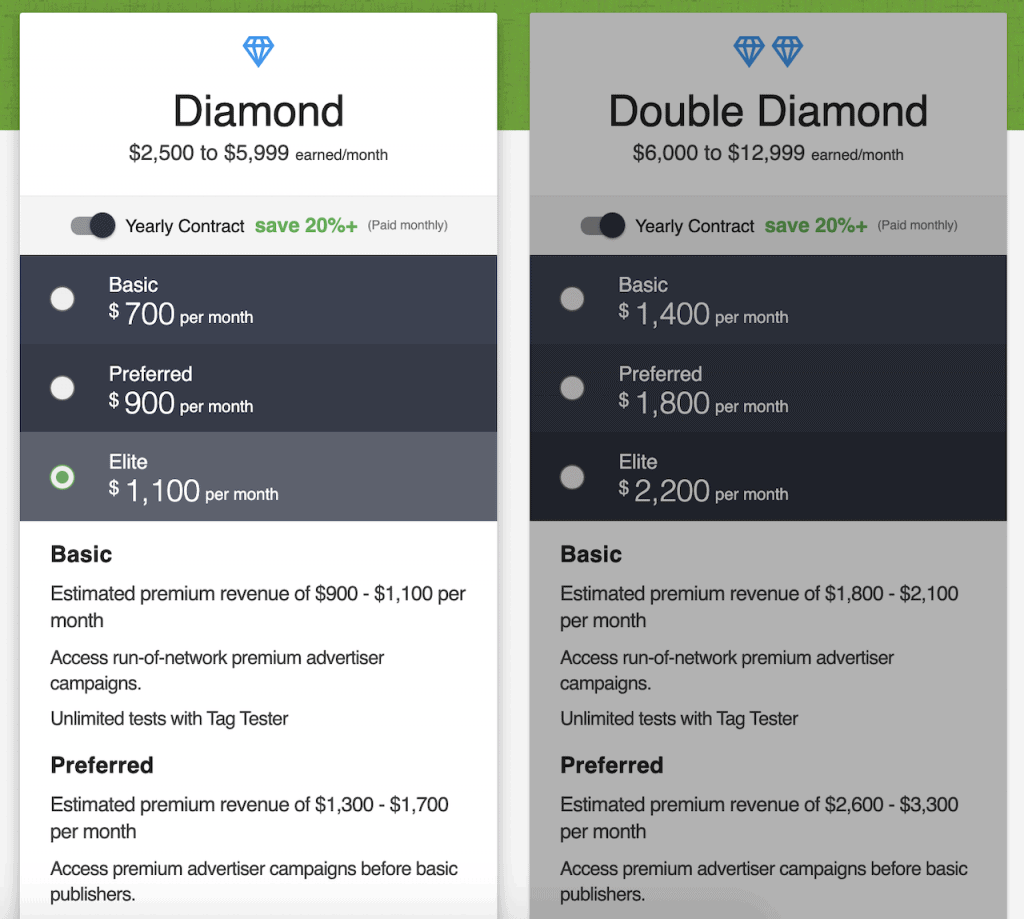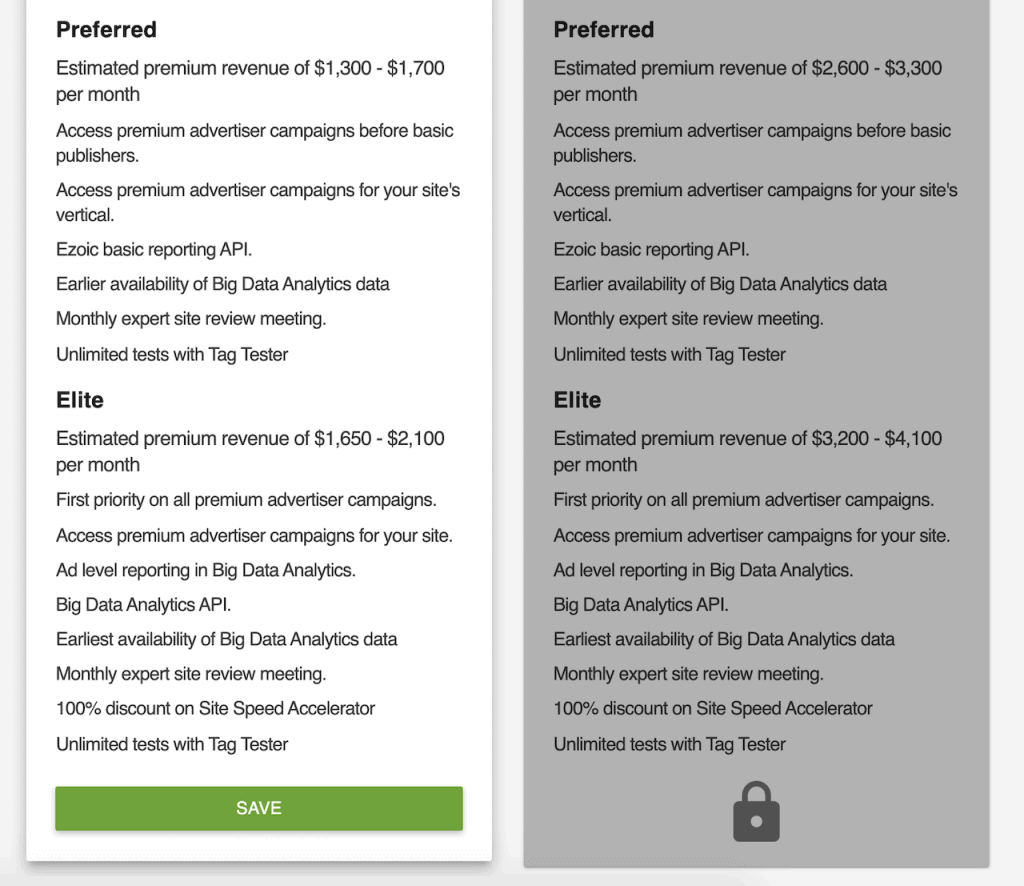 $1,100 per month!
Yep, bit of sticker shock.
I wasn't expecting a monthly charge that's over $1,000 at all. Others on YouTube or blogging who show their Ezoic Premium ad earnings definitely aren't showing numbers this high, so I wasn't expecting it.
But, as I'm writing this and I've had a chance to see the results, I'm encouraged. The EPMV has regularly increased, even though the traffic has been declining. I'm assuming that Ezoic is optimizing and with each day, the optimizations get better.
EPMV hit an all-time high of $71.71 on Jan. 5th! The previous high of $68.73 was on Black Friday, Nov. 27th.
The big question is always whether or not the earnings from the Premium plan will be more than the cost of the plan. A handy feature that Ezoic gives is a Premium revenue projection for 30 days. Here's what it looks like after calculating the all-time earnings from Dec. 30th to Jan. 4th:

Even if it stays consistent at this level and revenue is at $1300, that's $200 more than I would've made. Over the course of a year, that's $2,400. I'm not going to complain about that.
Premium also goes across all my sites on Ezoic, so that's the other plus. Even the lower traffic sites get Premium ads.
If you haven't signed up for Ezoic yet and you have the minimum traffic of 10,000 visitors, definitely sign up. You can sign up through my affiliate link, which doesn't affect your application positively or negatively, but I may earn a commission if you sign up and start using Ezoic. Or sign up through the non-affiliate link: ezoic.com.
Site 1 Expenses
Expenses were at $902.50 this month. The majority of it comes from the $795 for the Niche Website Builders Skyscraper campaign. The rest was for a content, Ezoic's Site Speed Accelerator costs, links, and web hosting.
Site 1 Plan for January
I'm going to make a push for content this month, but first, I want to hire a Virtual Assistant. I'm getting overwhelmed now with managing all 3 sites, this blog, the Niche Surfer newsletter, and starting a new site (more below).
I spend a lot of time editing, optimizing, and publishing content, because I believe Content is King.
Content is ultimately what will convert your visitors and generate that passive income we strive for. To me, "Content" is not just the words that are on the page, but also images and CRO tactics with buttons and post layout.
If the content is good, visitors will click your affiliate links and purchase, earning you affiliate income.
If the content is good, visitors will stay on the page, earning you more from display ads.
That's why I spend a lot of time on it and why I have articles from early December that I still haven't published yet.
If the underlying content isn't good, Google and your visitors will notice.
I've seen others who say they're ranking and getting traffic with their content, but after a little while, those rankings disappear along with their traffic. Why?
When I've seen a few of those sites and the content, I've seen horrible content. Maybe they were hitting the right notes with Google's algorithm, so they got the initial rankings. But then visitors click through from the SERP to the site, they see that it's unhelpful, they quickly go back to the SERP and click another search result.
Google sees that the content was unhelpful and soon enough the content won't be anywhere to be seen. Then the site owners complain that their content is good and they're not ranking anymore.
Content isn't just for Google, it's also for the visitors.
Site 2 – Recap And Income Report Breakdown
A great month for Site 2. Increases of 81.5% in traffic and 151% in profit!
Here are the details of visitor traffic, earnings, costs, and profit.
| SITE 2 | OCT. | NOV. | DEC. |
| --- | --- | --- | --- |
| All User Sessions | 2,688 | 9,373 | 16,803 |
| All User Pageviews | 3,022 | 10,178 | 18,474 |
| Organic User Sessions | 2,278 | 9,071 | 16,087 |
| Organic Pageviews | 2,778 | 9,785 | 17,507 |
| Amazon Affiliate Earnings | $673.13 | $2,037.53 | $3,863.93 |
| Ezoic Ad Earnings | $36.75 | $188.16 | $335.74 |
| EPMV | $11.33 | $18.68 | $17.71 |
| Total Revenue | $709.88 | $2,037.53 | $4,199.67 |
| Total Costs | $155.60 | $402.41 | $95.50 |
| Monthly P&L | $554.28 | $1,635.12 | $4,104.17 |
The holidays and continued growth with Google both helped to reach these numbers.
I don't expect the same numbers across the board in January due to the usual Q1 decline, but I do hope the decline won't be that big.
I had purchased four guest posts during Black Friday for Site 2, but none were published in December due to demand at the backlink service provider. Two of the links went up the beginning of January and the other two links were cancelled because the sites they were to go on decided to raise their prices to the backlink service. But the positive is that the traffic grew without any additional backlink support.
I did spend more time on Site 2 this month with adding content and moving the site to a Litespeed server using the Bunnyshell server management platform. I purchased Bunnyshell on a lifetime deal during Black Friday, specifically because it had the one-click installation of a Litespeed web server for WordPress on top of a Vultr High-Frequency server.
With Core Web Vitals coming live in May, I'm starting to prep for it with moving to the fastest server possible. I'll start optimizing in a 2-3 months. I want to wait and see if smarter people than me are able to figure out ways to speed up sites that serve display ads.
I was previously using Plesk to manage the Vultr High-Frequency servers. Plesk is more established and can also install a LiteSpeed server, but it's more complicated. I would've needed to install WordPress manually, rather than a one-click automatic installation.
If you're a little bit tech-y, getting your own VPS is something to look into. Faster, cheaper, and less risk of being affected by sites you don't own on the same shared hosting server.
But you do lose the customer service, good or bad. If you're willing to dig in a little, server management software like Plesk, Bunnyshell, or cPanel can do almost anything you need.
Ok, let's get to the traffic.
Site 2 Google Analytics Traffic
Traffic has continued to head upwards with the same Christmas Day spike as Site 1 had.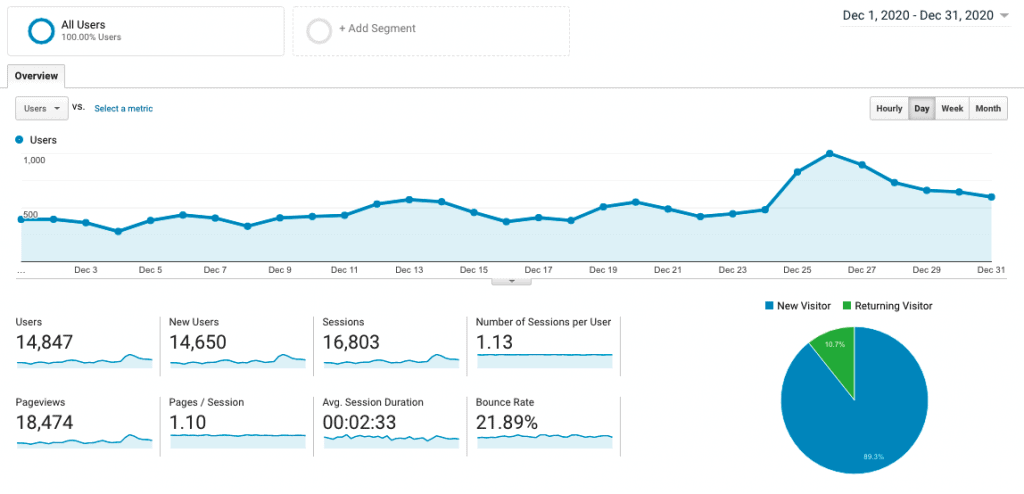 For content, I added 24 pages to Site 2 in the 2nd half of December. They're not regular articles like the others. These are short, informational articles written by an expert that I had found in the niche.
From Dec. 30th to Jan. 5th, they received 181 pageviews, so it's nice to see they're already getting traffic. The highest traffic one with 49 pageviews was only published on 12/24, so I'm encouraged by that.

They've also started to generate ad revenues, but the Page RPM (Revenue per 1,000 Impressions) is really low. I'll discuss in the Ezoic earnings section.
The main reason I wanted to do these articles is for more authority in the niche in Google and visitors' eyes. They should help to balance out the 15 money pages.
In doing the keyword research, I noticed some of the top results wrote a lot of fluff around the specific topic. I didn't do the fluff – yet. I want to see how Google treats these before I get into writing fluff for rankings.
I was originally thinking to give the articles 2-3 months to rank and assess impact, but at this rate, I can probably assess next month.
Site 2 Amazon Affiliate Earnings
There were 836 more ordered items than Site 1, but $277.66 less in Amazon commissions. Site 2's niche is also in a 4.5% commission category, while Site 1 is in the 3% category.
So why did Site 2 earn less? What happened?
That's where the niche comes into play with product price points. Site 2 products are at lower price points than Site 1, so even though there were hundreds more items ordered at 4.5% commission rate, the commissions for me were lower.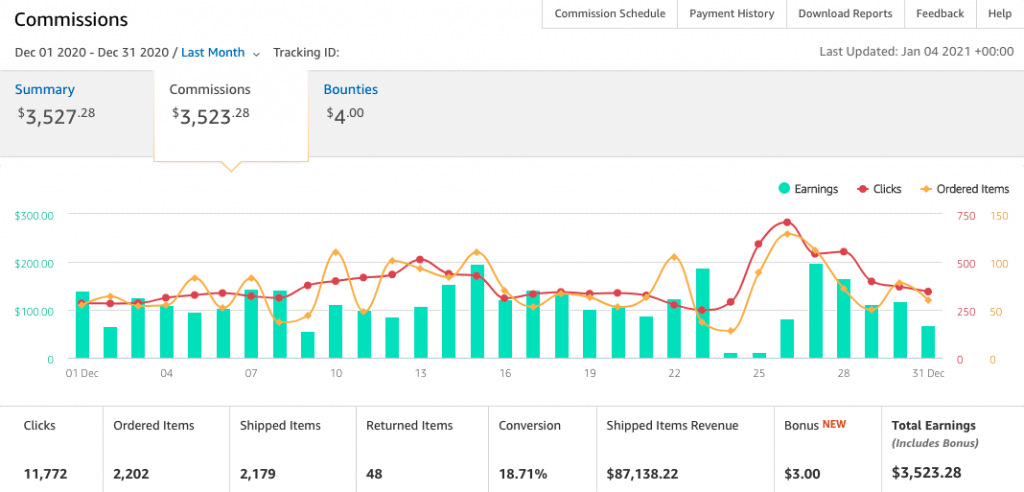 Site 2 Ezoic Earnings
Ezoic earnings stayed relatively consistent and picked up at Christmas with the traffic spike. EPMV was in the teens with the average at $17.71 for the month. I don't think there's much I can do with the EPMV to increase that due to the niche itself, but I'll focus on trying to drive more traffic.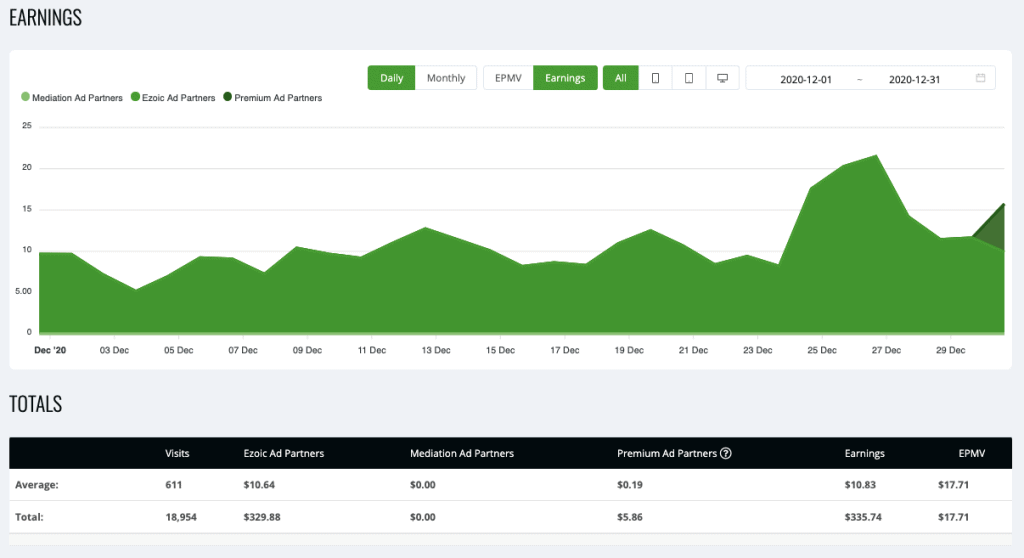 I mentioned earlier how the Page RPM for the 24 new content pages is really low?
$3.02 is the Page RPM for total ad revenue of $1.12 between Dec. 30th to Jan. 5th.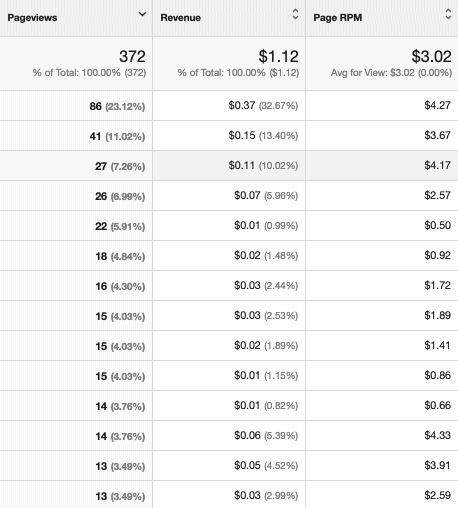 Totally "crushing" it!
One other thing that I'll see is the site's overall EPMV will be driven down as pageviews increase to these new pages due to the low RPMs.
That's fine though, not out to win any EPMV contests.
Although, the Premium ads might more than make up for the low RPM.
Site 2 Expenses
Expenses were pretty minimal this month at $95.50. Money went into hosting, Ezoic costs, and links.
I'm still deciding what to do next for Site 2, but do want to continue ramping up attention on Site 2.
Site 2 Plan For January
Continue with more of the short form content. I started thinking about the possibly for a lead magnet collating the content, but that's if I want to grow an email list. I'm not sure if I want to do that yet.
Start sharing posts on social media to help drive more traffic. I've done it with the other two sites, but not this one yet.
Site 3 – Recap And Income Report Breakdown
Site 3 continues to grow, despite it's bad backlink history from the original expired domain I purchased (read more about that experience in Part 1 of this expired domain case study).
| SITE 3 | OCT. | NOV. | DEC. |
| --- | --- | --- | --- |
| All User Sessions | 355 | 498 | 655 |
| All Users Pageviews | 413 | 552 | 832 |
| Organic User Sessions | 237 | 380 | 506 |
| Organic Pageviews | 290 | 406 | 555 |
| Amazon Affiliate Earnings | $37.31 | $75.72 | $64.92 |
| Ezoic Ad Earnings (Started 12/13) | N/A | N/A | $6.90 |
| EPMV | N/A | N/A | $14.87 |
| Other Affiliates | $0.00 | $25.00 | $0.00 |
| Total Revenue | $37.31 | $100.72 | $71.82 |
| Total Costs | $31.00 | $65.00 | $66.00 |
| Monthly P&L | $6.31 | $35.72 | $5.82 |
The major change this month is the addition of Ezoic display ads to the site. $6.90 isn't bad at all for a little over half the month.
Site 3 Google Analytics Traffic
The site is still young-ish at 7 months, so it's hard to look at the daily traffic and see any consistency.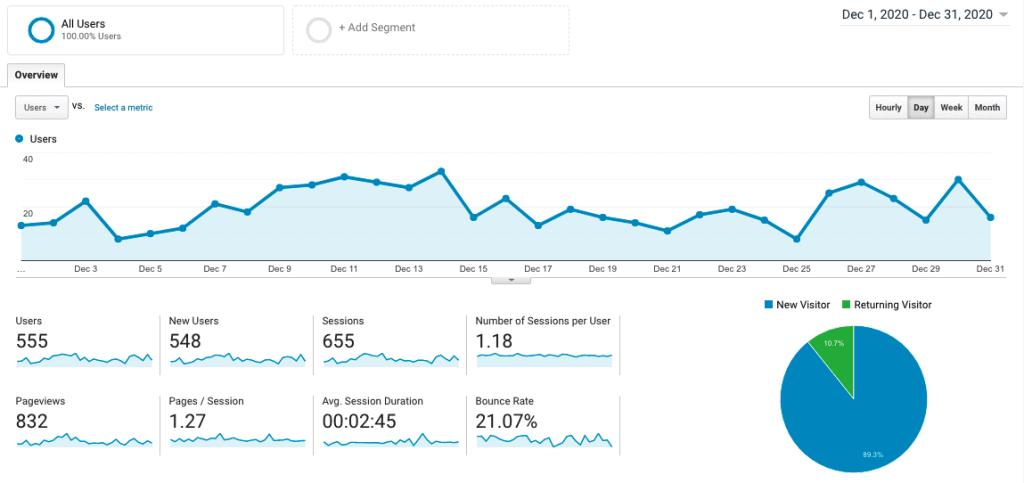 Let's take a step back to the beginning of the site with a weekly chart to avoid the daily ups and downs like above.
Couple notes first on two spikes early on. I believe the spike in June is me from when I migrated from the expired domain to a brand new domain. I hadn't excluded my own IP at that point from Google Analytics.
The second spike in July is from a bot that found its way to my site. Once I noticed that, I excluded the bot from the traffic, so that's why you also see a large drop in traffic in July to where it was before the spike.
But otherwise, the steady upwards climb is nice to see. For a new site, the increasing traffic is nice to see, but I feel that Search Impressions is an even better metric to look at for an idea of how Google is treating your site.

Site 3 Google Search Impressions
Search Impressions have steadily climbed throughout the site's lifetime with a couple larger dips in November and December 2020. Then a nice spike up in Dec. after the dip from the Google Update.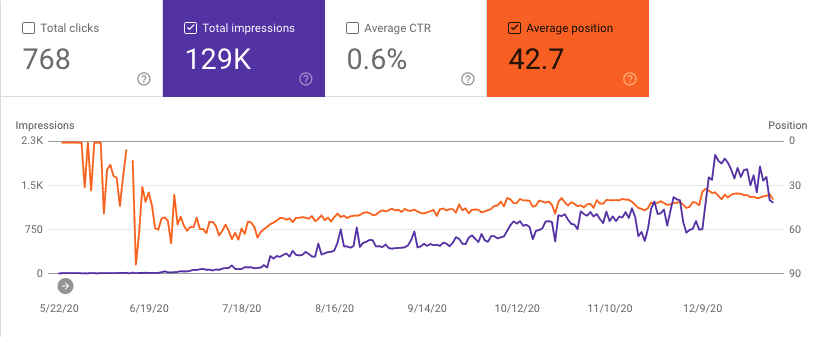 Zooming into Nov. and Dec. impressions, the two major dips occurred on Nov. 17th and Dec. 3rd. Dec. 3rd is when the Google Update started, so Site 3 was hit. Nov. 17th had no announced dips, but there was chatter in the SEO forums that an update was occurring with many seeing fluctuations in rankings.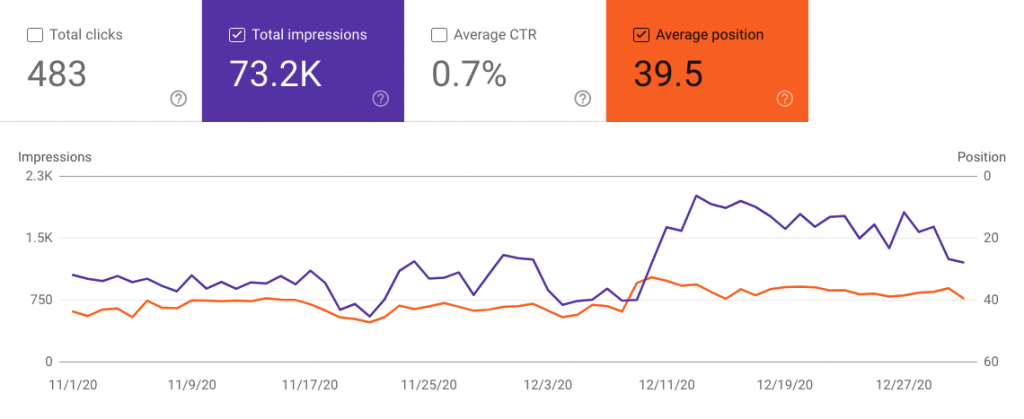 My guess is that Nov. 17th was a small test, so it didn't have a widespread effect. They reverted the changes a few days later to make adjustments for any bugs. Then they officially released the core update on Dec. 3rd and I had the same dip.
What's interesting is the rankings weren't that affected, which tells me that some of the keywords/posts completely dropped out of any rankings, so the average position mostly held steady.
Then on Dec. 9th when another update occurred, Site 3's impressions actually jumped 168% in a few days. Average position ranking followed suit this time and also jumped from 43 to 32.
I'm glad the site picked back up on the 2nd update. I was initially thinking that the bad backlink profile was the reason for the initial dip, but the rise up again tells me that the backlinks don't have a huge effect in the new algorithm.
Site 3 Amazon Affiliate Earnings
Amazon sales disappeared the second half of the month for the most part with one spike of 10 items shipped for $0.65 of commissions. $43.57 in Amazon Groceries orders that pays out at a 1.5% commission rate for a total of 65 cents to me as the affiliate.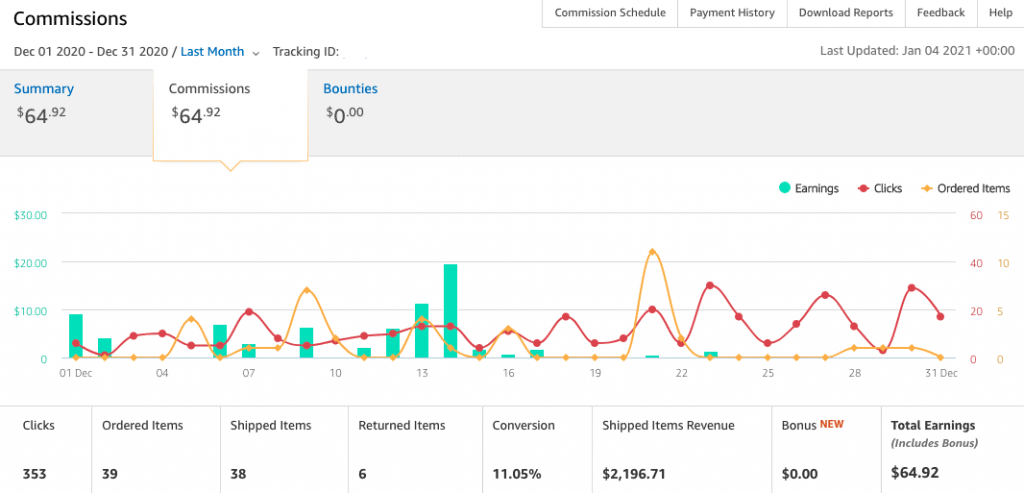 Site 3 Ezoic Earnings
Even though the display ad revenue is minimal due to low traffic, I'm still excited by what I'm seeing early on.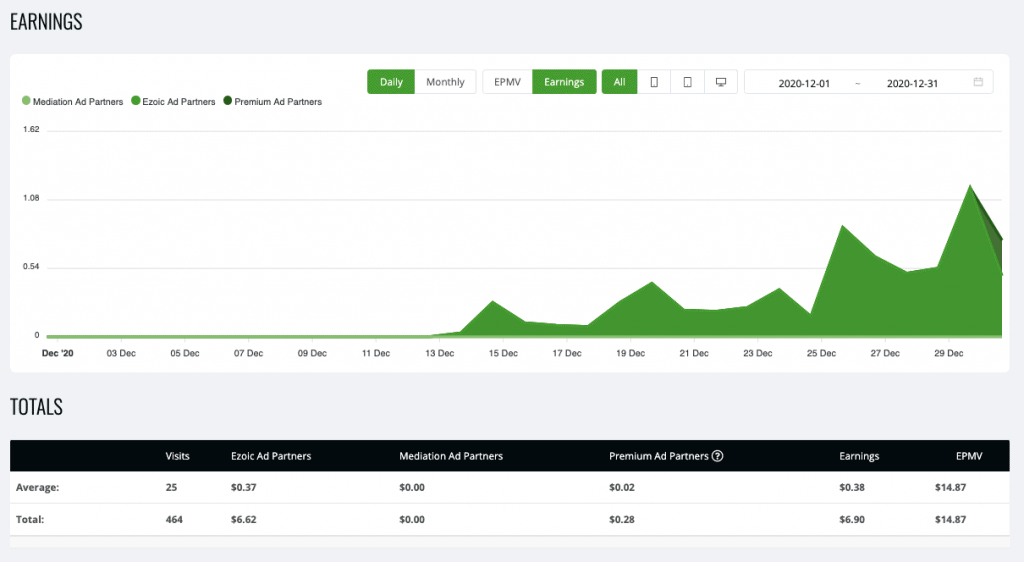 What I'm encouraged by is the increasing EPMV as Ezoic continues to optimize ads for the site. It's still jumping around, but you can see below that EPMV reached up to $42.22 with Premium on Dec. 31st.
Without the Premium Ad Partners and just the regular Ezoic Ad Partners, the EPMV was still $37.50 (18 visits / $0.48).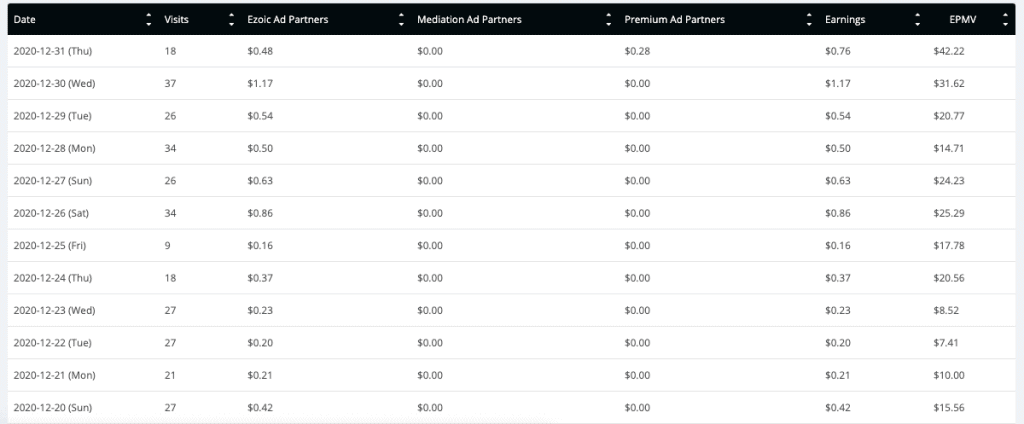 Site 3 Expenses
Not much with expenses other than website hosting with the Vultr High-Frequency VPS server and link building. Traffic's not high, so I'm trying to stay natural and not building many links.
Site 3 Plan For January
Optimize current content. The articles were published 6-7 months ago, so it's a good time to look at the content and compare it to the actual SERPs. We also just had a Google update, so I want to do relook at optimization for all my sites.
SERPs change over time, so it's important to look at your content and see if adjustments are needed based on what the Google algorithm changes were.
I use Frase to optimize the content, but SurferSEO and PageOptimizer Pro do a similar thing.
I want to create at least 1-2 articles this month to keep the site fresh. I haven't put up anything new since the first batch of articles.
Brand New Site – Site 4
I'm going to start a brand new site!
I really didn't think I'd start a site from scratch again, but I ended up deciding to.
The idea came about as I wanted to create a new silo for Site 1. As I continued looking at the silo topic, I realized that it's a large niche itself and I'd be putting a lot of eggs into one basket, Site 1.
That means with one little update, Google could take the largest site down. That's a big risk. So I decided to spread the risk and start a new site with the same information. Or buy one if I came across one in the niche that was out of the sandbox already.
I haven't found any available sites I liked yet to purchase, so I'm still moving forward with starting it on a fresh domain. If a niche site does pop up for sale, I could always purchase it and 301 redirect it to the new domain, or 301 the new domain to the purchased site.
We'll see how it goes. For now, I'm testing out writers in the niche. I'm also using a new process by sharing the content brief outline and editable Frase document with them directly, so they can optimize for keywords while they write.
Writers used to deliver work to me in a Microsoft Word document or Google Doc, then I'd need to copy/paste that into Frase. Now, I can just have the writers work directly in Frase to optimize for keywords.
I think having them do the Frase keyword optimization step will save me a good amount of time. This is the first time I'm testing it with writers, so I'll be interested to see how much more efficient the process will be, if at all.
Final Thoughts and Plan for January
For the first couple months of 2021, I'm looking to make a big content push, especially with the new affiliate website, Site 4. I want to publish at least 30 articles for that site to start with. I haven't finished the keyword research, but have already started the writers on some key content.
I'll also be looking to hire a virtual assistant to help with some regular tasks:
Formatting posts in WordPress, affiliate links, buttons, etc.
Optimizing content with Frase
Easy graphics work to create the featured images for posts
Create and schedule social media posts
Initial keyword research
There are many other one-off tasks, but the above are the biggest time sucks for me now. I keep getting bogged down and not able to go through all those steps with new content deliveries.
One last thing. I have a weekly newsletter at NicheSurfer.com where I curate useful resources that I find during the week and put them in the newsletter, along with my thoughts. These are the same resources that I use to help me with my affiliate marketing / digital publishing journey. I hope they help you too.
---