Are you hearing more and more about this Shotgun Skyscraper Technique for Link Building and want to know what it's all about? 
Well, you've come to the right place. I ran my first Shotgun Skyscraper link building campaign with Niche Website Builders (NWB) to build more domain authority for the Site 1 Case Study. 
I'm here to tell you the good, the bad, and the ugly with the NWB Shotgun Skyscraper Link Building service. Did NWB build good links and was it worth the money? 
I won't bury the lead. 
The NWB Shotgun Skyscraper campaign was well worth the money spent. If you have the funds to run a campaign for at least four months, it's a great way to quickly build your affiliate website's Domain Rating (DR), traffic, and earnings. 
If you've been following my monthly income reports, you'll know the growth from November to January for Site 1. 
But that doesn't mean all sites will see the same results. The Skyscraper technique is not for every site. You do need to look at your site and see if this link building method will be beneficial.
I'll discuss my tips and things to keep in mind with the Shotgun Skyscraper method, because it could do more harm than good if not executed right.
Let's first set the foundation of what this link building technique is all about. 
What is the Shotgun Skyscraper Link Building Technique?
The Skyscraper Technique was coined by Brian Dean from Backlinko and is a simple 3-step process: 
Step 1: Find link-worthy content
Step 2: Make something even better
Step 3: Reach out to the right people
Step 1 is to go look for content in your niche that has received many backlinks already. Find articles that are already providing high-value to visitors. 
Step 2 is to then use that article and other similar articles to drive you to create content that's much, much, much better. That's 3 "much"s. It has to be so good that people can't help, but to link to your article. 
Step 3 is to contact people individually who are already linking to the other articles from Step 1 and ask them to link to your article. These emails are personalized emails that are sent out one at a time. 
Why would they want to link to your article? Because your content is that much better – more thorough and detailed, fresh and not outdated. 
Now, what's a Shotgun have to do with all this? 
Mark Webster and Gael Breton at Authority Hackers took the Skyscraper technique and automated the outreach emails in Step 3. 
Automation allows them to send hundreds of emails each day. They call it the "email marketing equivalent of an AA12 semi-auto shotgun," thus the Shotgun Skyscraper technique. 
They say the shotgun approach saves more time and nets them 1667% more backlinks than sending individual emails. 
Sound good? Yep, that's why I decided to do it with Niche Website Builders.
Site 1 Pre-Skyscraper Summary
As a starting point for the site, here's an overview of where Site 1 was before the Skyscraper article went live on Oct. 30, 2020, according to Ahrefs metrics.

Pre-Skyscraper Domain Rating
As you can see, Site 1 had a DR 0.4 to start. 
Why was it so low? 
It was a fresh domain that I 301 redirected to and was only spun up on August 2, 2020, so just under 3 months old. The previous domain also was only a DR 1.2 itself, so it was already low to begin with. 
The previous domain was only 6-7 months old at that time I redirected to the new domain. The problem with the old domain was that it was an Exact Match Domain (EMD). I wanted something more brandable.
My hope was to increase the DR to at least double-digits. I didn't know if it was possible, but that was my own goal. I know that the DR doesn't affect Google's page ranking as they have their own PageRank, but the DR is something that other affiliate site owners will see. 
If they see a higher DR, they may feel more comfortable linking to my site naturally. 
Pre-Skyscraper Keyword Rankings
The site was already ranking #1-10 for many keywords, so it was doing OK, especially for a site with a DR 0.4 site. These were low-mid competition keywords and a couple higher competition keywords with search volume in the thousands, up to ~4500 per month.
The site had 114 articles posted as of Oct. 30th. 
Ahrefs data has the site ranking for 2,600 Organic Keywords. 
My keyword goal was to at least 2x the number of keywords ranking, especially the ones in the Top 10. 
Pre-Skyscraper Organic Traffic
We all know SEO tools' traffic numbers are always off, but Ahrefs showed 3,100 organic traffic sessions. 
Google Analytics showed 11,873 organic traffic sessions. Only a 3.83x difference from reality. 
With the goal of more keywords in the Top 10, the organic traffic should increase as well. My goal was to at least 2x the organic traffic. 
The team to help me reach those goals was Niche Website Builders. 
Who Are The Niche Website Builders?
Niche Website Builders (NWB) is run by Co-Founders Mark Mars and Adam Smith. They're both affiliate marketers with their own affiliate websites, so they understand the pains and struggles that other affiliate marketers go through. 
Mark and Adam have been around for some time helping others in the affiliate marketing space. They started a couple Facebook Groups for niche site owners to have a community to share and learn from. 
Niche Website Builders Group – Community for Niche Website Entrepreneurs
Niche Website Flippers – Free marketplace to buy and sell websites
With their experience building their own portfolio of sites and helping others in the community, NWB has grown quickly in the 12 months since they started offering services. They offer three main services: 
Link Building – Shotgun Skyscraper, Niche Edits, and Guest Posts
Content Writing – Monthly recurring packages or one-time orders based on number of words. Also offer FAQ specific content.
Expired Domains + DFY Affiliate Sites – NWB offers Done For You websites on fresh domains or on one of the expired domains they've found. They offer packages based on how many words you want before they hand the site off to you. 
They used to blog public case studies, so you can check out their blog. Get a sense of their thinking process and success in growing affiliate websites themselves.
There's also a NWB Podcast now too. You might recognize one of their guests in this podcast episode (hint: it's me!). 
With all of NWB's services, they aim to make it hands-off for all their clients. The Shotgun Skyscraper campaigns are no different. 
NWB Shotgun Skyscraper Plans
NWB offers 3 different plans based on the average number of links you want each month. 
Budget: $795 per month – 8 links per month (minimum of 2 DR30+ and 2 DR50+)
Baller: $1395 – 16 links per month (minimum of 4 DR30+ and 4 DR50+)
Ballistic: $1995 – 24 links per month (minimum of 6 DR30+ and 6 DR50+)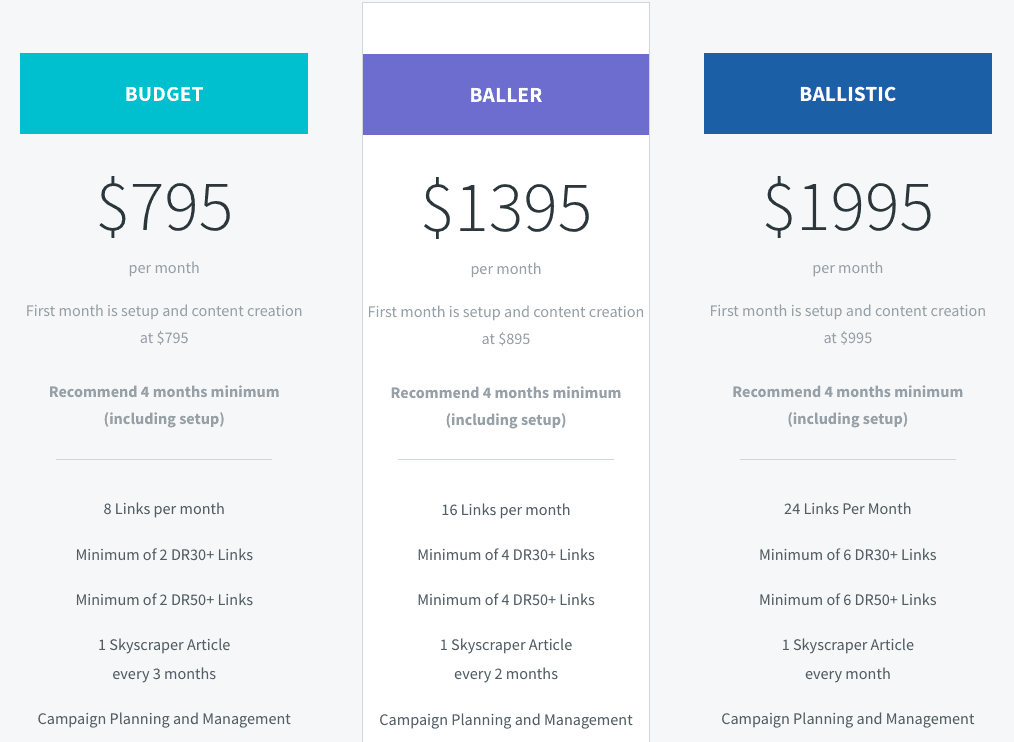 I went with the Budget plan and used a discount code for 10% Off the first month. I had a couple of reasons to go with the Budget plan. 
The first reason was that this was my first time building links at scale, so I didn't want to jump into a large expense right off the bat. I wasn't quite sure what to expect.
The second reason was the site didn't have many backlinks, so I didn't want to give it a huge influx of links in case it raises any flags with Google. 
The site was about 9 months old when the campaign started, so it was still relatively early in the life of the site.
Shotgun Skyscraper Link Building Process
Once I decided what plan I wanted, I paid on their website and set up my NWB account. From the NWB dashboard, I can see my order history and create orders for content, links, and their other packages. 
I'll give you what my experience was like with NWB. It may not be the same for everyone, but I also can't imagine it being that different for others. 
Setup Campaign and Content Creation – Month 1
After paying for the first payment, I set up a call with Mark Mars and the Account Manager who I'd be working directly with throughout the campaign. 
They explained to me what their Shotgun Skyscraper process was and what to expect for each month.
The focus of Month 1 was two-fold: Article and Email Setups. 
Skyscraper Article: Research and write the article, and create artwork for it. 
Email Campaign Setup: Plan, research, and prospect potential sites to ask for backlinks from. Email warming. 
NWB did everything here with the outreach side of things. That was all hands-off for me, other than answering some questions for them once in awhile. I was a bit more involved with the Skyscraper article side. 
After our kickoff meeting, the Account Manager (AM) sent over a Google Sheet for onboarding me and the site. Answered questions about the site and if there were any topics that I think might be good for the campaign. 
The NWB team will use your responses on the sheet, as well as going through your site to see what topics might be good for the Skyscraper article. The AM will work with you to choose the final article topic to go after.
TIP: Answer these questions thoughtfully. They're not going to know your site and the niche as well as you do. 
About 3 weeks after the first call and filling out the onboarding sheet, I received the content brief for what the writer was thinking of doing for the article. I gave my feedback and minor adjustments. I worked with the AM to fine-tune the outline and once it was good, he launched the writer. 
In a couple of days, the first draft was done and sent to me. It was a well-written, 5,000+ word article, and I only had minor notes. That shows the quality of their writers and content. 
TIP: NWB's writers are all in the UK, so if your target market is the US, let NWB know to remind the writer to use American English. 90% of their clients are US-based, so American English isn't a problem at all and the norm for them.
Depending on your niche, you should also proofread niche-specific terms/vocabulary. Again, no one will know your niche better than you.
On WordPress, I created a User account for them to log in too. They'll put the post up and format it with all the images for you in draft mode. When you're ready to Publish, you can press the Publish button. 
When creating the User account, I realized the default user roles didn't give me the permissions that I wanted them to have, so I installed the free User Role Editor plugin. 
The plugin allowed me to edit permissions. Eg., I didn't want the user account to be able to delete posts or edit posts from other authors. 
With the article uploaded and published, the outreach began. 
TIP: If you have display ads on your site, remove the ads from the Skyscraper article. Keep the Skyscraper article looking clean. You'll want to have a clean-looking article when prospects are checking the article out. 
Link Building – Months 2, 3, and 4
For the next 3 months, the NWB team did their outreach, and they did all the leg work with prospecting and reaching out to potential sites to generate backlinks from. 
I was able to stay updated with how the outreach was going on a shared Google Sheet. The sheet provided me the data of who they were reaching out to, what the status of the conversation was, prices, site metrics, sites that rejected a backlink, and sites that NWB rejected after doing their due diligence on the site. 
Here's a portion of the Sheet with Links Won and Links Currently Being Negotiated.

They started outreach immediately after the article was published live, so the first link that I received was in Month 1 on Oct. 31st. That was 1 day after the article was published.
If you've ever done any outreach to sites, you know it can take some time to get a response. When I get outreach emails asking for backlinks, it also takes me a couple days to respond myself. So this was a nice surprise to get a link on Day 1. 
The outreach emails that were sent increased each month as the email address they used warmed up. Warming up an email is important for cold email campaigns like this. Otherwise, there's a higher chance of your emails going directly to the recipient's spam folder. 
I don't know how NWB warms up emails, but some do it manually (Mailshake tips) or there're SaaS options out there now that can automate the warming up process. 
With outreach, the goal is always to get backlinks for free, but the backlink market has become tougher. It's a market now, so more and more sites are charging money. 
NWB knows this and out of the $795 per month that I paid, they set aside $150 for backlinks. That amount was easily used up each month, because of the niche that Site 1 is in. 
Site 1's niche is relatively competitive, so it wasn't easy to get free backlinks. But the whole backlink market is also turning more paid as well.
Sometimes sites with good metrics had high prices, which would easily bust the $150 budget. So I asked the AM that they still present those to me if possible. If the site is good, I'd pay for those links separately. 
The AM was great about it and included those in the Links Requiring Review tab of the main Sheet. 

They'd put the links that needed to be reviewed by me here. There were sites willing to put up backlinks for reciprocal links, so I needed to agree to putting a link on my site. 
Then there were sites that cost a little more and I had to decide whether I wanted to pay extra for those or not.
If you're doing this on your own, one of the toughest parts is knowing whether the backlink price is worth the link from that domain. 
That's where NWB's team and expertise shines again. 
Site Domain and Link Quality 
Backlink quality is an important part of the backlinking game. Not all domains are created equal. Getting backlinks from sites with poor metrics can do more harm than good. That's why a quality check is needed. 
The NWB team has probably analyzed thousands of domains and that same team will perform the due diligence process on backlink prospects. 
In the screenshot above with links requiring my review, they gave their analysis of the domains. They also provide a list of Links Rejected From the Campaign (below screenshot). 
The list included domains NWB rejected for various reason, as well as sites where the webmasters / site owners were not open to adding a backlink to the Skyscraper article. 

In the end, I received a good number of backlinks from quality domains. 
Shotgun Skyscraper Campaign Results
Here are the results from the NWB Shotgun Skyscraper Campaign: 
35 – Number of backlinks
41.37 – Average DR of domains
$88.59 – Average price per backlink
$3,100.50 – Total costs for me
How did my site's metrics improve? 
Here's Ahrefs metrics again on the Oct. 30, 2020 start date: 

The campaign ended January 31, 2021. Since there were backlinks built in the final days of January, I wanted to give time for links to take effect on site metrics.
This is where Site 1 is a month later at the end of February 2021: 

Not too bad at all. 
2,150% – DR Increase
177% – Increase in the number of organic keywords that ranked
114% – Increase in organic traffic from 11,873 in Oct. to 25,413 in Feb. 
119% – Increase in revenues from $1,204.38 in Oct. to $2,643.11 in Feb. 
I know the Referring Domains numbers are much higher than the 35 backlinks, but that's because they're many spammy, nofollow backlinks from bot scrapers. I'm sure you have many of them too if your site's been around for some time. 
Niche Website Builders Experience
All in all, I'm happy with how the NWB Shotgun Skyscraper backlink campaign turned out. I was able to get 35 backlinks for $88.59 per link. Plus, one great article.
NWB was transparent with everything they did and the Account Manager always responded to me quickly. The AM was knowledgeable and always willing to answer any questions I had. He was also quick to resolve issues that popped up. Had one interesting thing happen.
Due to a misunderstanding (maybe language barrier), there was one site that added a backlink in an article. But the site owner went a step further and copied the whole Shotgun article and posted it on their site. Apparently, the site owner thought that he was being asked to do both. 
I found out about the copied article when Ahrefs found the backlinks coming from the site's two articles. I told the AM about it, and he quickly took care of the copied article with the outreach team. 
It was definitely good to know that I wouldn't need to handle things myself. The hands-off approach was great for me as I wanted to build a bunch of links quickly, but didn't have the time or resources to do a Shotgun campaign myself. 
I spent maybe a couple of hours each month on the campaign, but that was more about me keeping track of the backlinks.
Track Backlinks and Anchor Text
I keep tabs on the backlinks, domains, dates the links were placed, and the anchor text. One of the main reasons is I don't want to over optimize backlink anchor text. 
Matt Diggity has two good articles on properly tracking backlinks and anchor text distribution. 
TIP: If you have an idea of the anchor text ratio that you're targeting, let NWB know. They can help with anchors when talking to site owners about backlinks. 
I have a Free Backlink Tracking Template if you need one – Backlink Tracking Template.

Is the Shotgun Skyscraper Technique Right For You?
There are many advantages to building links with the Shotgun Skyscraper method, but it isn't for everyone. 
Let's take a look at a few of the key Pros and Cons of NWB's Shotgun Skyscraper Link Building to help you decide if it's right for you and your site. 
Shotgun Skyscraper Pros
Hands-off as NWB takes care of it all
Many backlinks built quickly
Low cost per link
One great piece of content
Good backlink quality control
Shotgun Skyscraper Cons
Higher overall costs 
No education for future DIY campaigns
The biggest benefit is you'll build up many backlinks quickly. Each link will come in at a lower average cost than it would've cost for you to get those links yourself. 
The overall campaign cost is higher, because you're building more links than you normally would when manually sending emails one at a time. 
If you were hoping to outsource and learn the process, that's not what outsourcing is. You outsource to experts to do the work, not for a class on how to do-it-yourself. That's their secret sauce.
Another big benefit is the quality control of the backlink domains. Unless you know what the red flags are and you have the time to go through all the sites meticulously, there will be some poorer quality links coming through when doing it yourself.
NWB can help with analyzing sites and seeing if they'd be good sites to get a backlink from. If you've ever assessed a site, you know how much time they're saving you right there. 
Let's assume you've decided that Shotgun Skyscraper Link Building is for you. What happens with all those links? 
What Do You Do With the Skyscraper Links?
So you started your campaign and already receiving backlinks. Your Skyscraper article will be receiving all this link juice. Where does all the link juice power go after that? 
The link juice will be passed through to the outgoing links in the article. You'll want to manage which pages you're linking to internally, as well as externally. 
The internal links are the most important. What are the money pages you want to prop up and try to rank higher? 
I create internal links to the money pages with targeted anchor text. For example, I'll create a link with the anchor "best dog food" if my money page is a best dog food article.
A couple things to keep in mind with links. 
You might be thinking to remove all external links and just keep internal links. External links do matter to Google, because they look at that for authoritativeness. So don't remove all external links. 
Maybe you're thinking to create links to all your other pages. Be careful with creating too many links, because the link juice will get spread amongst all the links. Each link will receive a smaller portion of the link power. 
Final Thoughts – Shotgun Skyscraper Technique
That's the Shotgun Skyscraper Link Building technique with Niche Website Builders.
If you want to get a boost in traffic and rankings, the Shotgun Skyscraper technique can help get you there faster than other manual link building methods. 
If you've never done a link building campaign before, quality is one thing you'll want to keep at eye on. That's where working with a NWB will help immensely. 
---