For the Site 3 Case Study, I wanted to try and build an affiliate website on an expired domain to get out of the Google Sandbox faster than a brand new domain. Things didn't go as planned. 
I bought an expired domain, built the website, and made mistake after mistake. I want to tell my story to record the journey and possibly help others learn not to make the same mistakes I made. 
I'll go through my process of researching a niche, keyword research, and how to build an affiliate website in general with this case study.
To jump ahead to some results, about 10 weeks in, I had my first post with keywords ranking in the Top 5, including one Top 1 keyword! 
And on the exact 90-day date, I had my first Amazon Affiliate commissions! It was a pleasant surprise as I definitely wasn't expecting anything for maybe another couple months because of all the mistakes I was making at the start. 
Here's a screenshot of the rankings at the 10 week mark when I got my first Position 1 keyword. It jumped 12 places to get it. It's been floating between 1 and 3 now. The 2nd column of numbers represents the Search Volume (eg., 20's). The last column is the keyword difficulty, which is around medium difficulty on Ubersuggest, which is where the rankings were tracked.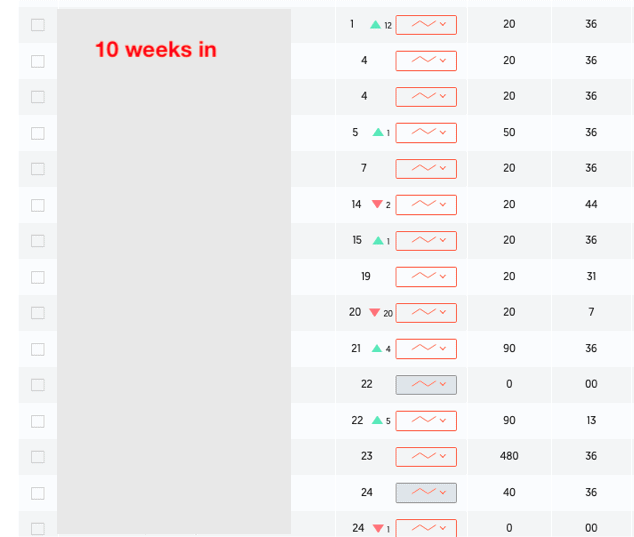 Original Goal for the New Affiliate Website 
I always start off with goals for a website and a plan to reach those goals. 
The overall goal was simple: 
Reach $100 per month in Amazon Affiliate fees within 10 months by creating an affiliate website on an expired domain. 
1 Expired Domain + 10 Months = $100+ per Month Amazon Affiliate Earnings
Makes sense right? Yea, I thought so at the time too. 
I then broke things down a bit further into a plan of how I'd get there. 
Step-by-Step Plan to Build an Affiliate Website 
Here was the original plan that I had laid out. 
Finalize niche
Finalize list of 50 keywords for initial posts
Buy expired domain
Outsource and write content articles
Setup website hosting and WordPress 
Put up posts as content articles come in
Make money!
One note, I didn't have the qualified 3 Amazon sales at the time, so I couldn't utilize the Amazon Product Advertising API with a plugin like AAWP. 
I used the WP Table Builder plugin with Amazon's Sitesearch. It was a pain to create tables, but I got it done and the tables look better than Tablepress with less work.
I'll go through each of the steps to discuss my process in starting and building niche sites. 
Step 1 – Pick the Niche
Picking the niche was actually really quick as I had this idea already after seeing the industry's growth. The industry had grown quickly over the last couple years, so I wanted to focus on a niche within the fast-growing industry. 
I used the list of tools and resources below to help confirm the growth for this niche. There's not just one resource to check either, but Google tools are a big part of it. If you want to rank on Google, you'll need to see what action the niche has in Google's eyes. 
A fair bit of warning, I like data and analysis, so I like to accumulate as much information as possible. That's not always the case, but I do it more often than not when researching niches. 
This part of the process will also start leading you down the road of whether you're going to like working in this niche for months and years (hopefully) to come. If you have trouble spending an hour or two researching the niche, it'll be difficult for you to write content and work on building the niche website. 
Here're the resources that I used to help me with my niche selection and quick descriptions of what I look for with each resource. 
Google Trends – trends.google.com

I want to see the niche growing or steady.
I always look at the max time range allowed, which is 2004 – Present.
I compare it to a baseline niche. Sometimes it's a related niche or even one that I'm already familiar with. I'm basically using the comparison for growth, not numbers. 

Eg., If I have a basketball site, I will use basketball as my baseline. I will then add Baseball to the trends chart and see how it compares to a niche I already know.



Google Search

I want to see that there are other sites and blogs talking about the niche and its products or services. 
I'll write down some of the niche sites, YouTube channels, Pinterest, and other search results into a spreadsheet for the next few steps. 
I also use Moz's free chrome extension to get a quick glance at the Domain Authority these sites have.
Use the Alphabet Soup method to make sure that there are plenty of searches in the niche. Income School and Passive Income Geek are the first ones that come to mind who have videos on this method.  
Write down some of the bigger search volume keywords that show up. I use Ubersuggest's free chrome extension because it shows me the search volume and other related keywords right in Google's SERPs. 

I know people will say Keywords Anywhere is more accurate, but I haven't seen a huge difference and I'm good with free. I'm also of the mind that most search volumes are way off after I compare my Google Search Console numbers with all the paid keyword search tools.



Google Keyword Planner

I check that companies are bidding and buying for PPC ad space in the niche. 
I check for the keywords I found in Google Search to see if ads are being purchased and the search volume ranges. 
The volume ranges help, but not that useful because the ranges are wide like 10,000 to 100,000.



SEO Tools – SEMrush, Ahrefs, Ubersuggest

I look up the sites that I found in Google Search because those sites are your future competitors. You want to surpass them one day, so you will know what level you need to reach to make money.

Look at their growth, backlinks, keywords, etc. Looking for niche difficulty.

I use SEMrush as my main one, but it's not cheap. It does have great UI/UX and gives me all the data I need. 
Ubersuggest does the majority of what I need too and it's free. But the UI/UX needs a lot of improvement to be used daily. 
Ahrefs is to get an idea for the quality of competitor's backlinks. I've found their keyword search volumes to be more inaccurate than the others. I stopped paying for this and only use their free backlink checker now (I've been meaning to check their free Webmaster Tools though, so this may change).



Social Media – Facebook, Twitter, YouTube, Pinterest, Instagram

Is there an active niche audience?
I'm looking to see if the niche's social media influencers and channels have followings and engagement. 

Not all niches are relevant in social media, so it depends on the niche. Eg., If you're looking at a construction niche, you may not need to look at Pinterest or Instagram.



Communities – Facebook Groups, Reddit, Niche Forums

Same as social media, looking for engagement and activity.



My Circle of Family and Friends – LinkedIn, WeChat, Line

Another check to see if there's engagement and activity in the niche. 
I don't usually ask people unless it's a niche that I know someone is involved in to get their thoughts.
I'll also search on social media and communication apps to see if people I know have been involved in the niche in the past. I'll ask them about the niche.  
Those are all the resources I'd use when researching a niche. I've done it for dozens of niches, but I also don't go through all the categories for each niche. I may jump around too depending on what may lead me to a quicker thumbs up or down. 
If I get a gut feeling that it's not a good niche, I'll look for confirmation on whichever resource I think will make it look like a dead niche.  
Back to this case study's niche, I will say that I didn't know much about the topic initially, but I kept hearing the niche's keyword constantly. 
I looked up the niche on Google Trends and the data looked good. I saw huge growth in interest over the last five years. This is a screenshot of Google Trends of the niche. 

Step 2 – Keyword Research
With the niche selected, I planned to come up with a list of 50 low competition, long tail keywords to choose from for the initial batch of articles. The keyword research didn't take too long as there are still a good number of low competition keywords in this niche. 
My keyword research process starts off with a loose interpretation of the Keyword Golden Ratio (KGR) method originated by Doug Cunnington at Niche Site Project. KGR calls for keywords under 250 search volume and an allintitle ratio of 0.25. 
I'd go above both those numbers depending on the niche and keywords. He doesn't use the limits as a hard-line either. So why use KGR then? 
KGR gives me a starting point using mathematical equations and quantitative data that I can use to jump start keyword lists and help avoid highly competitive keywords. After the quantitative check is done, I'll do a qualitative analysis of the keywords. 
I loosely used KGR as the first step of keyword research. If the ratio of the allintitle and SEMrush search volume was less than 0.25, it made the initial build list of keywords, that'd eventually get narrowed down to 50 keywords. 
One tip when using the KGR method in your research, don't be a stickler for each character in the keyword phrase. 
I don't count keywords that have the same user search intent as a separate keyword because Google's smart enough to differentiate. Search intent is all part of Google's BERT (Bidirectional Encoder Representations from Transformers) update and NLP (Natural Language Processing).
Google knows that in order for keywords to be separate keywords, they have to have different user search intent. 
For example, the "best dog treat recipe" and "best dog treat recipes" keywords. That's the same search intent. I didn't treat them as two separate keywords. Singular vs plural doesn't make the user intent different. 
Other keywords that had the same user search intent I'd also count together – eg., "world's best dog treat recipe" had the extra word "world's." But the search intent was the exact same as before, but I'd use world's somewhere in the content for NLP purposes.   
I'd list all the similar keywords together and eventually group them into one article, like a cluster of keywords. I'd use the different keywords and phrases in the article. 
That's the start of my keyword research. I've come up with my own system of keyword research that starts with the KGR methodology. I add on different qualitative metrics to help narrow down low competition keywords. 
Ok, niche chosen and 50 keywords laid out. Now to choose a domain name.
Step 3 – Expired Domain Search
My inspiration to go with an expired domain came from the desire to shorten the Google Sandbox time by building an affiliate site on an expired domain. 
I wasn't about to spend hundreds or thousands on an expired domain, so I checked out ExpiredDomains.net. Thinking it was a gold mine of opportunities, I started checking the domains that were dropped every day. 
I'd later realize that ExpiredDomains.net wasn't the place to go for domains that'd help with the expired domain method, because they're mostly domains that no one wanted. It's rare that a good domain expired and dropped.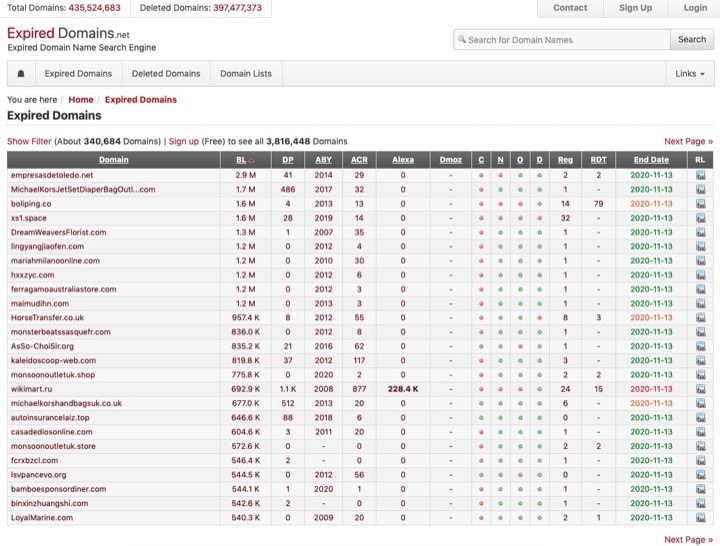 It didn't help that I also made so many mistakes in analyzing the expired domain and almost wrote the whole site off as a loss. 
I focused on my niche with a few specific words for either an EMD (Exact Match Domain) or a PMD (Partial Match Domain). 
After a few days of checking the daily release of domains, I popped my cherry and purchased a PMD domain. 
Here's what I saw when I was doing the research on it: 
4-letter .CO domain 
Decent DA (Domain Authority) – Ahrefs in the low-20s/ SEMrush in mid-teens
Thousands of backlinks
Google site:domain.com search turned up with lots of indexed pages
Niche relevant history
Archive.org's Wayback Machine had a long history of cached pages
Was not a PBN (Private Blog Network) website
So far so good I thought. But for those who're more experienced, you might've already seen some issues. Then there was also this last bullet point: 
All pages were in Ukrainian language (Google Translate helped there)
If I had known any better, this should've stopped me in my tracks. But I was so excited to have found a 4-letter domain + niche relevance + decent DA, that I overlooked a lot of the foreign language backlinks, cached web pages, and other things. 
I got caught with another surprise when I went to purchase it, the .co domain was considered a Premium domain. The price tag on this Premium domain was $116. I tried to look for another option, couldn't find one and paid the $116. 

Yea…
I'll go deeper through the lessons learned from the mistakes I made in the next post on this case study. 
If I had known what I know now about expired domains and checking the SEO history of domains, I would NOT have purchased the domain. I made so many mistakes and didn't know the clues were right in front of me. 
But before I realized what a mistake it was to purchase the domain, I started content generation. 
Step 4 – Planning and Outsourcing Articles to Writers
I had my list of keywords ready to go and now it was time to create the content. I wanted to create the content as quickly as possible, so outsourcing was the main path of how I was going to get there. 
I looked at my list of 50 keywords and made a plan for how I'd move forward. 
23 keywords were selected to create articles for initially because that's what I thought would give me good coverage for what I wanted to do. 
Out of the 23 articles, I outsourced 22 of them and left the main pillar post to tackle myself. The pillar was one that I hoped would be my definitive starter's guide for the niche.
I wanted to also test to see what areas of the niche would drive more traffic than the others. That'd allow me to put focus on those areas in the future whenever (if ever) I started to get traffic.
Now, for where to find writers, I went to Fiverr and looked for blog content writers. It wasn't the first time I've ordered content articles from Fiverr, so I knew the process and it was easy.
But, it was the first time I was ordering product review articles written. That's where it hit me the most with editing time – which I'll expand on in Step 6 with publishing the articles. 
I thought that I could give detailed outlines, so the writers would be able to give me back usable articles after minor edits. I was wrong about the minor edits. 
I split the 22 articles amongst four Fiverr writers and ordered their gigs. I sent them the outlines for each of the articles, and they were on their way. 
I did look at Upwork, but I felt it was going to take longer to get going, as well as a more complicated experience there with putting up a job post and reviewing proposals from writers. Fiverr is easier with ordering a gig and paying for it. 
I also looked at content mill sites like iWriter and Textbroker, but with 22 articles, I didn't have the funds to go to those sites. The samples of the lower-priced writing levels were also of the same quality I was getting from Fiverr, so there was no advantage. 
Siloing Without Knowing I Was Siloing
At the time, what I didn't realize was that I was creating and organizing a silo architecture for the content and site. That was mainly because I hadn't heard of the silo structure until after I already outsourced articles and started editing. 
The plan was that the pillar post would be an overview of all the topics in that niche. The topics would then be broken down into individual posts, which could be broken down another level of posts if needed. The lower-level articles would all feed up into the posts higher in the hierarchy. 
Samuel Schmitt has a good post on creating a topic cluster (another name for silo / content hub) and how it helped to increase his traffic 1000%.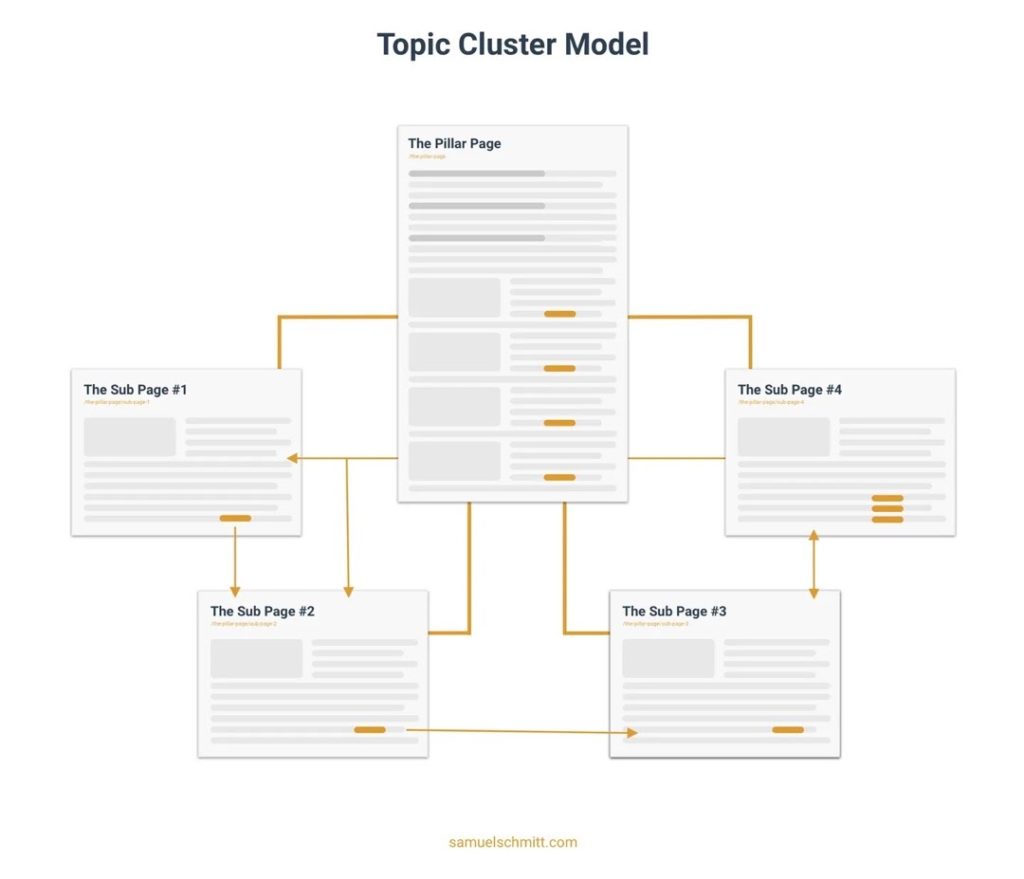 If you prefer a video, Miles Beckler also has a good explanation of silos and how it works. 
SEO Silos Made Easy - The #1 SEO Technique To Rank For Difficult Keywords Fast... Silo Your Content!
With the writing underway, except for my own, it was time to set up the website itself. I hadn't set up the website yet because I wanted to launch the writers first. As they wrote, I got hosting and WordPress up. 
Step 5 – Web Hosting and WordPress 
My website technology stack is the same for all my affiliate sites. It makes things easier to work with solutions I know well, so I'm not wasting time with learning new things. If anything breaks, I'll also be able to diagnose issues more easily. 
Here's my tech stack for websites:
Even though the tech side is all the same, the design side is where I vary things up. Things like logos, colors, and general visual identity. I'll look at the popular sites of the niche and make sure I'm not straying far from what target audiences are used to. 
Another thing I'll do is setup initial pages that sites need: About, Contact, and legal/disclaimer pages. All my sites have those because they help Google and visitors feel like the website is "legitimate." 
With the website up and articles coming in, I started editing and publishing. 
Step 6 – Writing, Editing and Publishing Articles
The four Fiverr writers took about three weeks to deliver all the 22 articles, but there was added time with revisions too. I asked the writers to deliver their first 1-2 articles to get feedback. That allowed me to give them notes that they could use on the articles they hadn't started yet. 
For the main pillar post, I had done my research of Pages 1 and 2 of the Google SERPs and planned to write about a 5,000-word article.
Around the same time, I had found out about Surfer SEO, but hadn't tried it yet. What better time than then to sign up for a 7-day trial for $1 to start the main post of the site with? 
I put the main keyword through Surfer and saw they suggested 7,000 words for the article to rank along with a number of headings, keywords, images, questions, and more. 
I won't lie, I was a bit overwhelmed when I first saw that because I wasn't anticipating writing that much but if Surfer said to do it, I guess I had to. 
I started researching and created a draft article outline based on the Top 10 SERP results. This took some time because I went to each article and looked at how they structured the articles. I started to look for commonalities among the top articles, looking for what Google likes. 
When finished, I looked at the outline and adjusted it for the headings and other keywords. These are the keywords that were found during the keyword research phase that were grouped together for this article.  
Once the updated outline was completed, I started writing. It took me about 4 days off and on to finish, due to additional research and the actual writing of the post. 
The article ended up being a beast of a post at 9,000 words. Surfer suggested just over 7,000 words. I remember that Matthew Woodward had mentioned in a YouTube Surfer SEO review that he had removed 2,000 words himself from an article due to Surfer's suggestion, and that got his article higher. 
Surfer SEO Review: How I Took The Number 1 Position By Deleting 85% Of My Pages Content
I thought about removing 2,000 words and creating another post for the site, but then thought to myself, "let's see what happens." 
Fast-forward 3 months and nothing has happened with that main pillar post. The related keywords are in the 70s-90s. I'm not quite sure why that's the case if some others are higher.
The competition is high for that main keyword, so that could be the reason why. Or maybe Google thinks the article has a lot of fluff, so it's not trying to rank the article for keywords? Or maybe it has to do with having posted the article first on the expired domain and then posting it on the new domain. 
Whatever the reason, re-optimizing that post is on my to do list now. Going to test one thing at a time to see what helps, if anything. Will also look at building links to the article.
Side Note: I don't use Surfer SEO any longer. I use Frase now because it also provides content research, allowing me to automate much of the research, planning, and outlining. That's saved me a lot of time because the research phase takes the longest time. Check out Frase here. 
After publishing the pillar post, I started editing the outsourced articles. The editing took much longer than anticipated for each one because they just weren't written that well. They weren't that detailed and could've addressed user intent much better. 
Five days after I published the pillar post, I had 6 more posts published. Upon each post being published, I requested indexing in Google Search Console (GSC). 
Here's where I started getting worried and maybe was too impulsive. Time will tell if I made the right decision or not in wasting $116.00.
Step 6A – Posts Not Indexing and Performed a 301 Redirect
Another few days went by and none of the posts were indexed. I started getting worried that the expired domain had issues in Google's eyes. There weren't any manual actions in GSC and the site: search still turned up the non-existent old pages in SERPs. 
I couldn't find anything visually wrong with the domain that would prevent indexing. I give it another couple days and still nothing. I was fed up and decided to get a new domain. 
I transferred everything over to the new domain, adjusted the logo and other areas for site branding, and did a 301 redirect. Within 24 hours, the site: results and GSC showed the site being indexed. It wasn't all the pages, but 1 or 2 I believe. It was a start.
I'll write about how to do a 301 redirect in a separate post. I've done it a few times, so I've gotten it down to a standard process. 
Now, all the posts have been published and it was a waiting game. Will there be traffic? Clicks? Amazon affiliate sales?
Step 7 – Money Rolling In
Original Goal: 10 months and $100+ in Amazon Affiliate fees per month
First Affiliate Fees: $5.09 in one day of sales at the 3-month mark
Current Status, Month 5: $37.31 in Amazon Affiliate earnings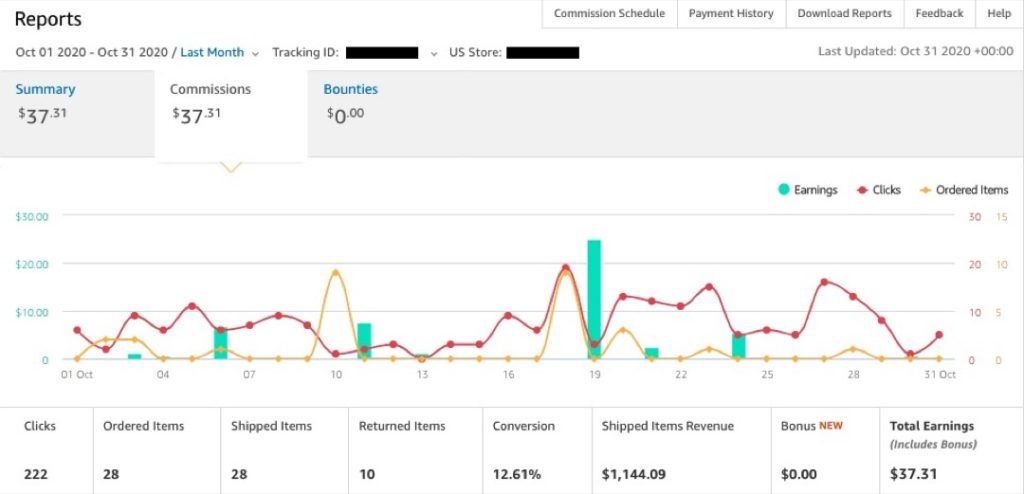 I'm a little over 1/3 of the way to $100 at the Month 5 mark. Getting initial traffic and past the Google Sandbox are always the toughest parts. Hopefully, things will start moving from here on a quicker trajectory to reach that goal. 
See the Oct. 2020 Income Report for more information on current stats. 
Not exactly rolling in the money, but it's a start! 
Next: Part 2 of the Case Study Mistakes Galore
I originally added all the missteps I made in this post, but as I got halfway through the list of mistakes, I realized this was turning into a novel.
I've decided to break it up into multiple parts and will release Part 2 soon! 
---