November has been a wild and crazy month!
Total profit across the 3 niche sites was $8,834.98!
Sites 1 and 2 had record months – shattering the previous months from all sides. Thousands of Dollars and Tens of thousands of visitors in a month.
Site 1's earnings increased 615% to $8,600.72 thanks to an increase of 58,684 pageviews in November! I'll get into what I did to get that dramatic increase further below. What about the growth from when I purchased the site?
1075x in Earnings and 61x in Traffic after only 6 months
From $8 to $8600 a month in earnings. From 1,078 to 65,622 user sessions a month.
Another big milestone for Site 1 is that it's now broken even and is profitable within the first 6 months!
I paid $2,000 for the site and I've now profited $3,215.06.
Site 2 increased it's earnings by 213% to $1,849.37. Pageviews broke the 10K mark after increasing 236.80%.
Site 3 was also better, but the growth is slower compared to the other two because it only just passed its 6-month anniversary of being a live site on November 22nd. As I mentioned in Part 1 of the Case Study Overview, I have an Amazon Associates earnings goal of $100 within 10 months. I'm 3/4th of the way there, earning just over $75 this past month.
Before we get into the details, each site just completed Month 6 in my hands. Site 1 and Site 2 are in Month 11 of its life and I purchased them in June 2020. Site 3 is new and was built in June.
Now, let's get to the numbers —
Profit & Loss Overview
October had Amazon Prime Day, but that's nothing compared to November, which gave us Black Friday and Cyber Monday Weekend.
Consumers and advertisers spent big money online. Consumers were buying products left and right. Advertisers were spending left and right to get their ads shown on my sites and others.
| | Site 1 | Site 2 | Site 3 |
| --- | --- | --- | --- |
| Amazon Associates Earnings | $5,074.47 | $1,849.37 | $75.72 |
| Ezoic Earnings | $3,526.25 | $188.16 | N/A |
| Other Earnings | N/A | N/A | $25.00 |
| Expenses | $1,441.35 | $392.50 | $65 |
| Profit / Loss | $7,159.37 | $1,645.03 | $32.31 |
Site 1 – Income Report Breakdown
I mentioned in Oct.'s income report that it might've been the start to the hockey stick growth many have. I think I'm now in the middle of one.
| SITE 1 | OCT. | NOV. | INCREASE |
| --- | --- | --- | --- |
| All User Sessions | 12,431 | 65,622 | 427.89% |
| All Users Pageviews | 13,313 | 71,997 | 440.80% |
| Organic User Sessions | 10,537 | 63,358 | 501.29% |
| Organic Pageviews | 12,585 | 69,332 | 450.91% |
| Amazon Affiliate Earnings | $848.62 | $5,074.47 | 497.97% |
| Ezoic Ad Earnings | $355.76 | $3,526.25 | 895.89% |
| EPMV | $26.59 | $50.32 | 89.24% |
| Total Revenue | $1,204.38 | $8,600.72 | 614.12% |
There were a few other highlights with Site 1 this month.
Breakeven – The Site has already broken even from the $2,000 I paid for the site, plus all the content and other expenses! This isn't hanging over my head anymore and it's all profit from here (hopefully).


1st HARO Link – Received my first HARO link! I had sent out 5 emails back in July, but didn't do anymore afterwards until I saw a query in September that fit perfectly with an article I had just published. I got that link and it turned out to be a DA 57 too.


Daily Traffic Records – Hit the 1,000 Sessions level two days in a row. Hit 2,000 Sessions. Hit 3k and 4k Sessions together. Hit 5k, 6k, 7k Sessions in one day on Black Friday, Nov. 27th.


Daily Display Ads Record – $68.73 EPMV on Nov. 27th to go along with the highest traffic day, resulting in display ad earnings of $556.29.
Let's go through the metrics and what I think caused the dramatic traffic and earnings increase.
Site 1 Google Analytics Traffic
It's hard to tell in the Google Analytics chart, but Sessions for the first 3 days of the month were under 1,000. The low was at 603 sessions on Nov. 3rd. The high was then reached on Black Friday, Nov. 27th, with 7,812 sessions. A 1195% increase in traffic in 3.5 weeks!
I kept checking my servers too, because I was worried they'd crash due to the traffic. I'm on the lowest Vultr High-Frequency VPS server plan at $6.00 per month, so I wasn't quite sure what it could handle.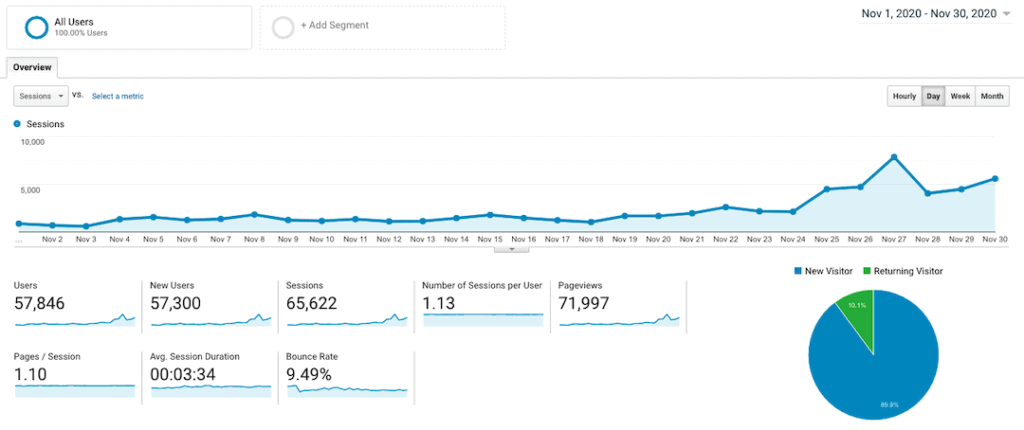 I'd love for the traffic to continue growing or even staying steady here. I'm expecting a decline in December because the trajectory I just saw doesn't feel sustainable – or is it?
Either way, I do expect January traffic and earnings to come back down some.
I believe that internal linking definitely helped to bring up the rankings of many of the articles as top pages kept getting more traffic. The top pages would pass on link juice to other articles, which helped to get those ranking higher.
Site 1 Amazon Affiliate Earnings
Amazon sales were crazy, especially at the end of the month. The last four days accounted for 64.5% ($3188.29) of the US earnings.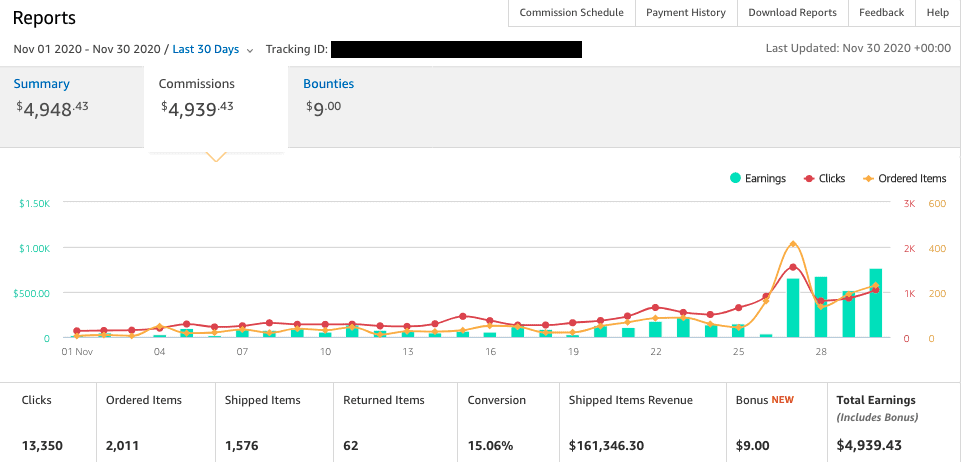 One thing that does bother me is the number of ordered items that are not shipped. I'm sure there are some cancelled orders. The Shipped Items number does lag depending on inventory and third-party shipping efficiency.
But I've also seen ordered items that never get shipped. I've tracked the first 2,000 orders of my Amazon account and have the data in a spreadsheet.
I haven't found any Amazon-provided data that gives a 1-to-1 matching of Ordered to Shipped items. So I tried to make my own. I'll update on the research after I dig into the data.
One of the things on my to-do list is to look into that more. My assumption now is that the orders were cancelled by the customers, but nearly 20-25% of orders not being shipped seems egregiously high.
Site 1 Ezoic Earnings
The Ezoic account manager kept mentioning how Q4 was going to be big this year and boy did it go off in November.
EPMV (Earnings Per Thousand Visitors) hit a low of $24.00 on Nov. 3rd, but kept increasing as traffic increased. The highest EPMV hit was $68.73 on Nov. 27th, Black Friday.
There was a higher EPMV on Nov. 25th of $69.37, but Ezoic has said that the visitor number was off due to an AWS outage on the 25th. Due to the incorrect lower visitor numbers, the EPMV would be skewed higher.
Ezoic reassured the total earnings were correct at least. So, I'm not counting that higher EPMV on the 25th.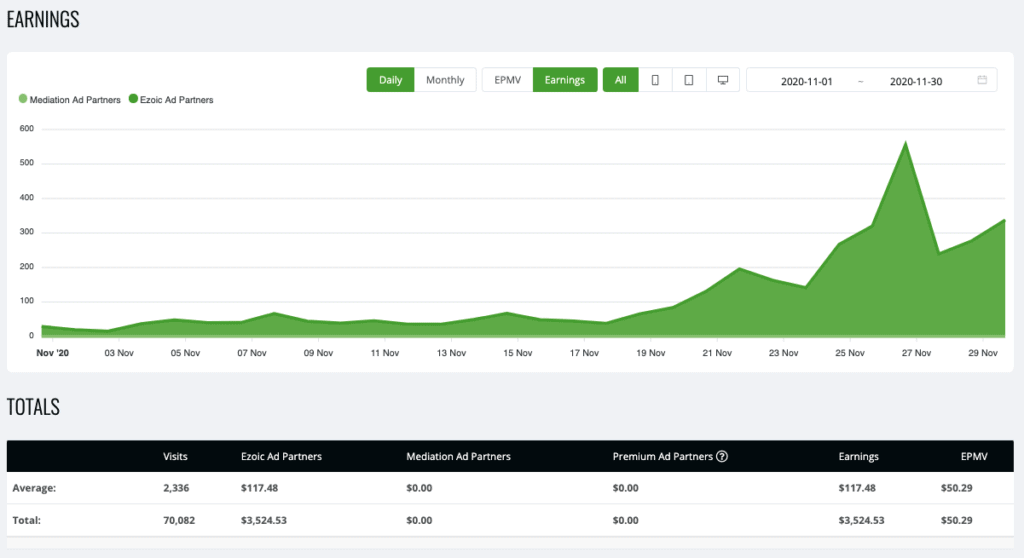 Site 1 Expenses
I outsourced more content this month because I want to start expanding into other categories in the niche. For example, if the general niche is Pets and the site had only been about dogs, I'm now expanding into cats and fish.
Since I 301 redirected Site 1 from an EMD (Exact Match Domain) to a branded domain, I'm able to do this. I'm not tied down like I am with Site 2. I go into it more below when I discuss Site 2.
The first full month of shotgun skyscraper link building with Niche Website Builders(NWB) has completed. I'll do a write-up of the experience so far. It's on my list of things to write, along with initial overviews of these 3 Affiliate Site Case Studies.
I've been relatively happy with my experience so far. The site's received 8 links with an average DA of 41.87 in the month that outreach has been occurring.
NWB provides a shared Google Sheet that keeps me up to date with what's going on, but there were some weird connection issues with it grabbing the data from their backend. The account manager is great though. He's responsive and will let me know what's going on too when I ask.
Site 1 Traffic and Earnings Increase Insights
I looked back on this month to see what I did that might've helped drive the traffic, instead of just dumb luck. Black Friday definitely helped, but if my articles weren't already ranking on Page 1, the earnings wouldn't be where they are.
I attribute a good part of it to recent content I uploaded over the last couple months that originated from two areas – Accidental Keyword Rankings and Zero Search Volume Keywords.
In my Google Search Console, I saw these product models/versions that I didn't recognize for one of the bigger brands in the niche. I found that I was ranking in the 30-50's position for these accidental keywords.
Once in a while, these products would pop up into the 10's position ranks when the products were being compared to products I was already ranking on Page 1 in the SERPs.
I went into keyword research mode to find out what these products were. It seemed these products were released in the last couple of months, but with little fanfare online.
The only information I could find were on forums and a couple non-Amazon product pages. Those product pages allowed purchases online, but no affiliate program, at least no public one I could find. So no affiliate sales commissions for me. That may have been why no one wrote reviews of those products.
I used the good ole' keyword tools to find that search volumes were zero or 10. So even the tools weren't seeing any action or they weren't up to date yet. But these keywords and variations would pop up in Google's autocomplete search bar.
Zero volume keywords, low competition in the SERPs, and a good number of search impressions in Google Search Console – Go for it!
I already basically knew these products, because they were just slightly altered versions of other models. I'd be able to get them out quickly. It was worth a few hours of my time to write the articles and test them.
I wrote three articles and now two of them are in the Top 10 of traffic drivers to the site. The other article is flipping between pages 2 and 3 in the SERPs.
Site 1 Plan for December
I want to do a big content push, but I'm the bottleneck at the moment. The thing that delays content is the keyword research, the editing and publishing. I put a lot of time into keyword research and the editing, because Content is King.
I want to expand into more categories, so getting them out earlier will allow them to age.
I'm thinking that Q1 will slow down significantly, so maybe the other categories will help with continuing to drive traffic to the site. I don't want to let it just sit stagnant.
Site 2 – Income Report Breakdown
Site 2 also had a great month and many Firsts with traffic and earnings like Site 1.
There were $0.00 in earnings when I purchased it 6 months ago and now it's over $2,000 in earnings!
I didn't note it last month, but Site 2 hit breakeven in October, Month 5. I paid $450 for Site 2 in June and grew it to this point with a monthly profit of $1,645.02.
| SITE 2 | OCT. | NOV. | INCREASE |
| --- | --- | --- | --- |
| All User Sessions | 2,688 | 9,373 | 248.70% |
| All User Pageviews | 3,022 | 10,178 | 236.80% |
| Organic User Sessions | 2,278 | 9,071 | 298.20% |
| Organic Pageviews | 2,778 | 9,785 | 252.23% |
| Amazon Affiliate Earnings | $673.13 | $1,849.37 | 212.98% |
| Ezoic Ad Earnings (started Month 4) | $36.75 | $188.16 | 411.81% |
| EPMV | $11.33 | $18.68 | 68.14% |
| Total Revenue | $709.88 | $2,037.53 | 224.63% |
Site 2 Google Analytics Traffic
Visitor sessions increased 248.70% from 2,688 to 9,373. I have to say that I wasn't paying too much attention to Site 2 this month, because Site 1 was growing so fast.
When I did look, it was a nice surprise to see it approaching 10k sessions.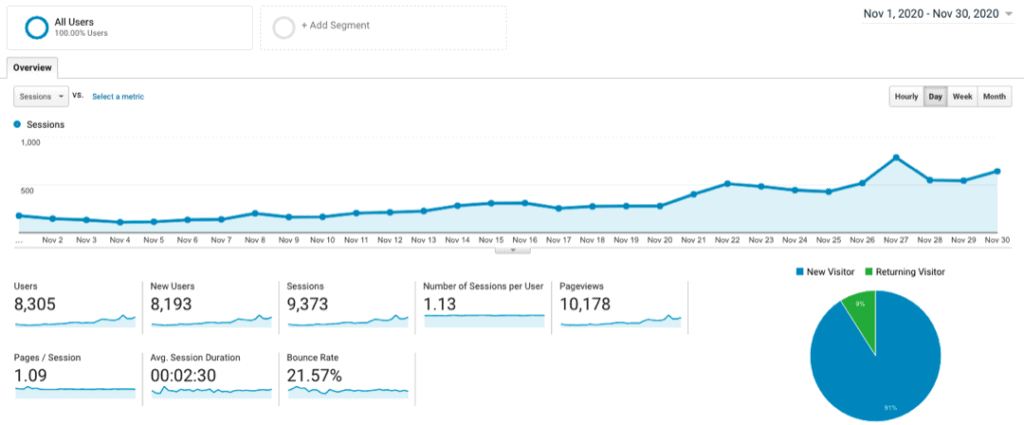 Site 2 Amazon Affiliate Earnings
A record month here and the Amazon sales started a few days earlier than Site 1. It really started increasing in the middle of the month.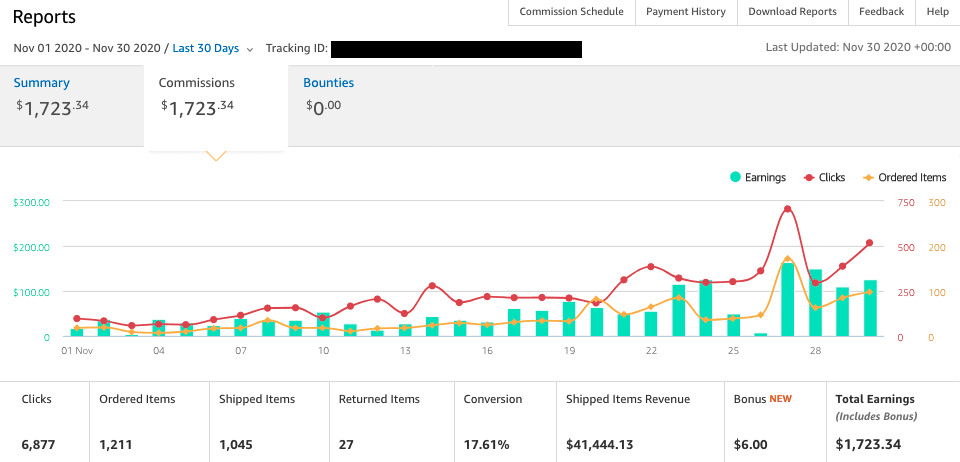 One thing to keep an eye on when selecting niches is product prices. I mentioned in October's income report that there were two main price ranges for this niche: $50-150 and $150-300.
There were 1,045 shipped items for earnings of $1,723.34 which meant an average of $1.65 per shipped item in the US.
Site 1 had 1,576 shipped items for $4,939.43 for an average of $3.13 per US shipped item.
You can see how much niche selection plays into potential earnings for Amazon affiliates. Think about your target audience for your niche and who they are. That's going to play into earnings potential for your affiliate site.
With Amazon Associates, there's only a 24-hour cookie, but if they purchase, you get everything in their shopping cart. With some demographics, that could be very helpful in driving additional sales of higher-priced items.
Site 2 Ezoic Earnings
Same as Site 1, the lowest EPMV was on Nov. 3rd for $9.93 and the highest legitimate EPMV was $25.58 on Nov. 27th. Not quite sure what was going on with Nov. 3rd and the low traffic that day for both sites.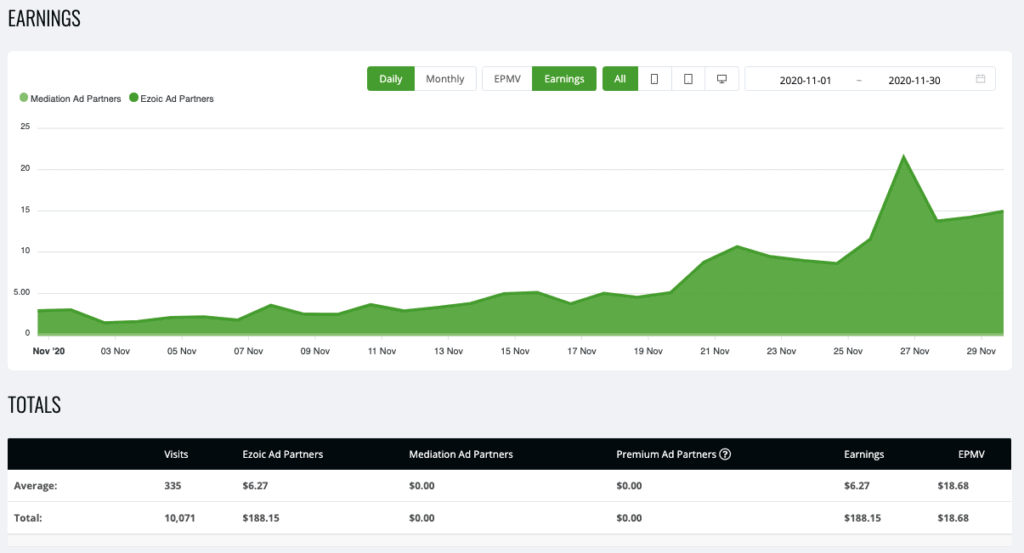 When I compare the EPMV to Site 1, I get jealous and even a bit dejected at times that Site 2's EPMV is only in the high-10's and low-20's.
I have to remind myself that it's a completely different niche and keywords have lower CPC (Cost Per Click for paid ads) all-around.
Site 2 Expenses
Money went into creating more content and starting to build links for this site.
I took advantage of a Black Friday deal for links. I want to start seeing what kind of effect links will have on a site in this niche.
I've been able to get into the Top 3, 5, and 10 for some of the largest keywords in the niche, so I'm hoping that these links will help give them a push into the Top 1-2.
Site 2 Plan For December
Earnings were over $2K for the month, but definitely propped up by Black Friday. At this point, if it could consistently bring in $1,500 on average each month, that'd be amazing for a site that I only paid $450 for.
Of course, I still want to keep growing it, it's just a matter of How. The growth has been good for how little work I put into it. I can only imagine how much faster it can grow by putting more work into it.
I'm focusing on creating a bunch of articles for a topic cluster of informational articles in the niche. I already put the order in for that, but I need to create the main pillar page for the articles still.
Even though there's a topic cluster I can focus on, there aren't many others I can go after. I will say that I've had trouble planning a good content strategy for this narrow niche. Sites 1 and 3 are easier to plan for as I'm not tied to an EMD.
I haven't decided if I'll be using the shotgun skyscraper link building strategy for this site yet, mainly because of a potential domain switch.
There're a couple large competitors that'll be hard to beat on a large scale, but the rest of the competition might not need much to get ahead of them. I've been able to get ahead of them on some high volume keywords with content and on-page SEO.
One thing I keep going back to is getting a branded domain to allow me to expand into other areas. I'm seriously considering it and why I haven't pulled the trigger yet on any bigger link building.
The other choice is to stay with the EMD and within the micro-niche and not put much work into this site.
A 3rd choice is to keep the EMD and expand into other micro-niches anyways. One of the top competitors is actually doing this. It seems he got cornered like I feel right now. I don't see his other articles really ranking, so topical relevance with an EMD is probably holding him back with those articles.
Site 3 – Income Report Breakdown
Amazon affiliate commissions more than doubled and now I'm three-quarters of the way to my 10-month goal of $100 in Month 6 of the Site 3 Case Study.
| SITE 3 | OCT. | NOV. | INCREASE |
| --- | --- | --- | --- |
| All User Sessions | 355 | 498 | 40.28% |
| All Users Pageviews | 413 | 552 | 33.66% |
| Organic User Sessions | 237 | 380 | 60.34% |
| Organic Pageviews | 290 | 406 | 40.00% |
| Amazon Affiliate Earnings | $37.31 | $75.72 | 102.95% |
| Other Affiliates | $0.00 | $25.00 | ∞ % |
| Total Revenue | $37.31 | $100.72 | 169.95% |
Site 3 Google Analytics Traffic
User sessions increased 40.28% to 498. There's only one article that has keywords ranking in the Top 5 at the moment, so there's not going to be as much traffic for now.
As keyword rankings increase, I fully expect the traffic to quickly increase. I'm going to keep an eye on keyword rankings for future content optimizations.
Once I see keywords in the 20's-30's, I'm going to look to optimize the content for current Top 10 SERP results.
The reasoning is the content was written back in May-June 2020, so they're 6 months old now. Search results have probably changed due to Google changes and even user intent changes.
Always refresh content and keep them optimized for the SERPs.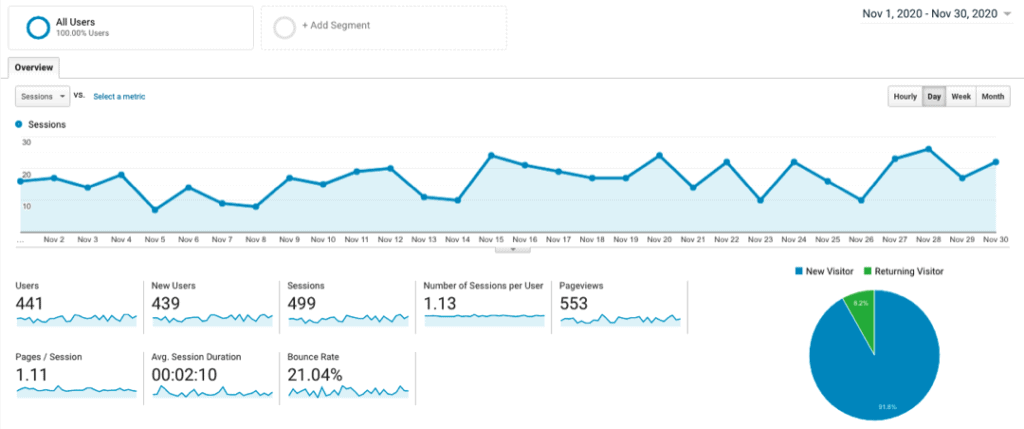 Site 3 Google Search Impressions
Search impressions actually decreased from October's 56,200 to this month's 52,600. However, total clicks and average position increased.
It's interesting that positions moved up because it should've also increased impressions. Either less people were searching or I had keywords that dropped out of the Top 100, so didn't get any impressions.
When I get time, I'll have to look into it. It's still only Month 6 of the site, so it could also be Google still testing keywords and articles for the site.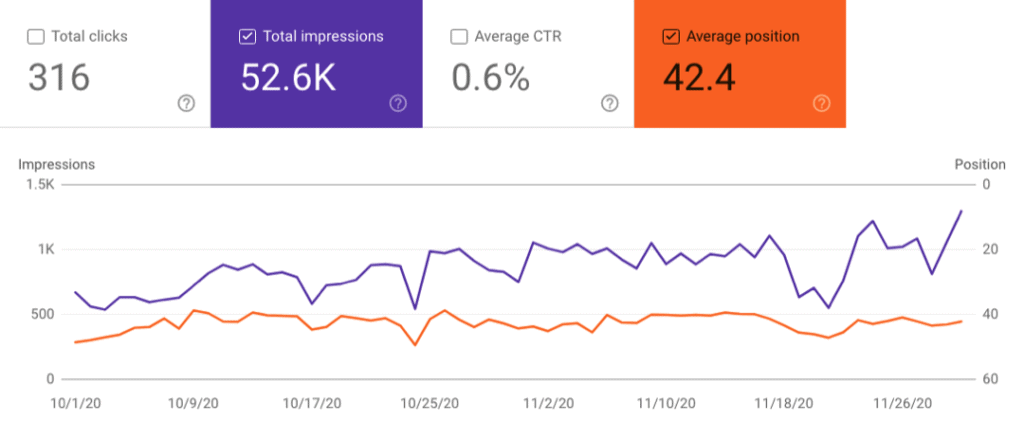 Site 3 Amazon Affiliate Earnings
Amazon earnings doubled without much help from Black Friday. That's because the majority of the articles aren't ranking high enough to get the traffic.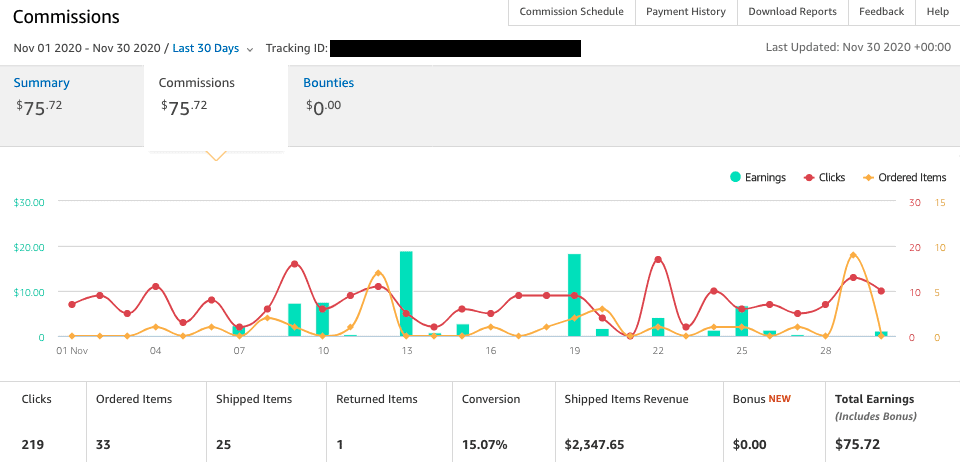 Site 3 Expenses
I purchased one link as a test from a service I haven't tried before. Since I didn't want to send any potentially bad links to my larger sites, I'm ok with taking the risk on Site 3.
This site has many bad links I've had to disavow anyways, so one more bad link probably wouldn't hurt it. The bad links will be Part 2 of the case study with mistakes made in building this site. I do cover some of it in Part 1.
Site 3 Plan For December
If the keyword rankings continue to increase, I'll look to optimize the content.
There is one article that I created to make it as a pillar post, but it's looking way over optimized with little Google action.
It's a good article to start a shotgun skyscraper link building campaign though. I'm thinking of talking to NWB to see if they'd be able to handle the campaign, since they didn't write the content. Or maybe I'll take a crack at it myself.
Black Friday Purchases
There were some good Black Friday deals out there and I purchased a few to help me with building, managing, and growing niche sites.
I took advantage of a number of the deals. Seeing the earnings keep coming in Black Friday helped encourage me to keep buying, even though I won't see the earnings for 30-60 days.
As I use the tools, I'll update the tools and resources page. Those are various services and platforms that I use all the time on my affiliate sites journey.
Self-promotion – I sent the deals in the Niche Surfer Black Friday Wave (aka issue). Sign up for the newsletter if you're not on it!
Final Thoughts and Next Steps
As traffic and earnings increased throughout the month, I felt more inspiration and encouragement to continue building my portfolio of sites, even though I already have six now.
They're all in different niches though and don't crossover. So what I've been thinking about is trying to stay within the niches I already have and dive deeper in. It does allow for faster content creation of new sites because I already know the niches well.
I've been keeping an eye out on niche sites I could acquire for the content. I'd add the content and 301 redirect the site to one of my current sites. That'd help even more with getting more content out.
The other idea is to continue building the acquired site into an estranged sister site in the same niche. They're siblings, but not connected. That's also an interesting strategy that I've heard to get more position coverage in the SERPs. That's definitely enticing if I have multiple sites in the SERPs for individual keywords.
---