This is the 1st monthly income report of some of my affiliate websites as a way to track my progress and share the things I'm doing – the good, the bad, the ugly.
I plan to write more detailed articles for each of the 3 affiliate sites I'm going to share in due time. That'll cover the beginnings of those sites and what my initial plans were for them.
For beginners wondering how to build an affiliate website, I hope that my experiences will help others in their passive income journey.
For now, it's the end of the month and I wanted to just start with my first income report. And before you ask, I won't be sharing the URL's to these sites. I've seen too many others get copycats
These 3 sites just finished Month 5 in my hands.
Sites 1 and 2 were purchased in mid-June 2020. 1 was purchased on Motion Invest and the other was purchased through a Facebook Group. Both of these sites were started beginning of January 2020, so they're technically in Month 10 of their whole life.
Site 3 was started with content on an expired domain end of May 2020. Then I did a 301 redirect to a new domain two weeks later in June 2020. I made many mistakes with this site initially. I've already started this overview article, so I may share this one first. It's taking a long time to write because I keep coming up with mistakes that I made.
Enough of an intro and let's start talking money.
Total income was $1,951.57
Expenses were $1,157.20
Profit for the month is $794.37
Profit & Loss Overview
This is the overview of the monthly P&L for each of the three sites. I'll get into more details and analytics for each of the sites below.
Overall, October was a good month thanks to Amazon Prime Day and Google starting to give me more Featured Snippets and Position 1's.
| | Site 1 | Site 2 | Site 3 |
| --- | --- | --- | --- |
| Earnings | $1204.38 | $709.88 | $37.31 |
| Expenses | $970.60 | $155.60 | $31 |
| Profit / Loss | $233.78 | $554.28 | $6.31 |
Since this is the first income report, I'm going to share the stats starting from when I got my hands on these sites. You'll be able to see the growth of these sites after I started doing On-Page and Off-Page SEO.
Sites 1 and 2 were purchased at their original Month 5 points, so those sites are technically in Month 10 of their life cycle.
I'll also be including Sessions because Ezoic caclulates EPMV as Earnings Per 1,000 Sessions (Visitors).
Site 1 – Income Report Breakdown
Site 1 is the largest out of the 3 sites. This is where the majority of my focus is out of these 3 sites.
Each month has been better and better in terms of traffic and earnings.
October was a big month and maybe the start of the hockey stick growth that many people talk about. It's only the first big jump, but the growth has been great since I got the site.
| SITE 1 | START | MONTH 5 | GROWTH |
| --- | --- | --- | --- |
| Number of Posts | 32 | 116 | 362.50% |
| All User Sessions | 1,078 | 12,431 | 1,153.15% |
| All Users Pageviews | 1,239 | 13,313 | 1,074.49% |
| Organic User Sessions | 1,031 | 10,537 | 1,022.02% |
| Organic Pageviews | 1,157 | 12,585 | 1,087.73% |
| Amazon Affiliate Earnings | $8.49 | $848.62 | 10,030.97% |
| Ezoic Ad Earnings (started Month 4) | $0.00 | $355.76 | ∞ % |
| EPMV | $0.00 | $26.44 | ∞ % |
| Total Revenue | $8.49 | $1,204.38 | 14,185.87% |
Google Analytics Traffic
Here're a couple screenshots of my Google Analytics dashboard of the Audience Overview. The first screenshot shows the growth of the site during the 5 months I've had this site. From when I purchased it in mid-June to the end of October.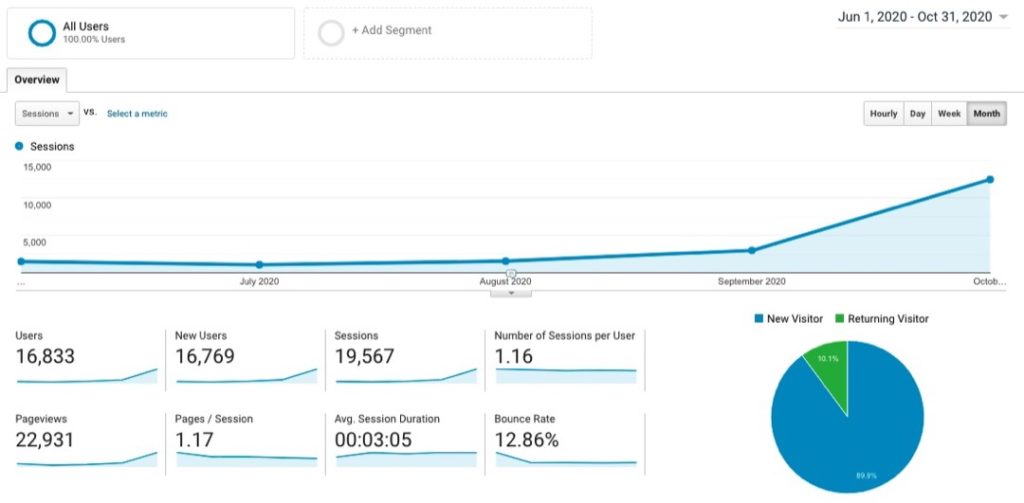 The second screenshot shows the daily traffic in October. This is what I'll show in the future for the monthly income reports. You can see my biggest traffic days were on Oct. 13th and 14th when it was Amazon Prime Day.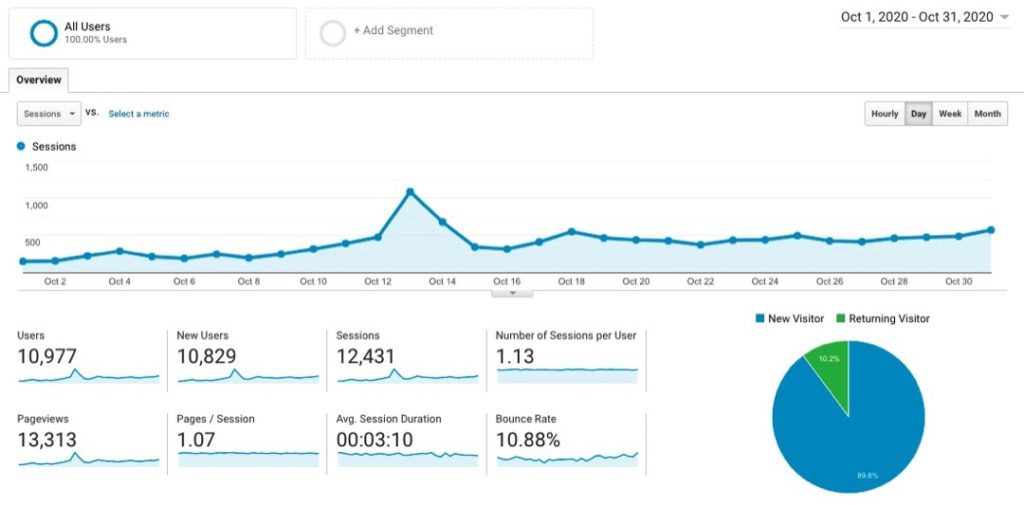 Regardless of the Prime Day excitement in the middle, I'm also happy to see that there's a steady uptick throughout the month. Compare the first couple days of the month to the last days of the month.
It's hard to see on the chart, but Oct 1st and 2nd had 153 and 160 visitors, respectively. Oct. 30th and 31st had 487 and 571 visitors.
That's 318 – 357% growth in just one month! I definitely don't expect that, but it's nice to see the site starting to get recognized by Google and searchers.
I do have a theory that these Prime Day spikes helped give the site and posts a good boost on Google.
My theory is Google sees more people searching for the keywords I'm ranked high in. Due to my high rankings, click-through rate (CTR) is amazing, so Google thinks my site is worthy. Google will then start ranking my other posts and keywords higher.
I'm seeing the same thing in Site 2 below.
Amazon Affiliate Earnings
The best monthly earnings to date. I never believed I would've gotten to $848.62 from $8.49 in only 5 months, almost 100x! September's Amazon commissions were only $96.14, so that's even 8.8x.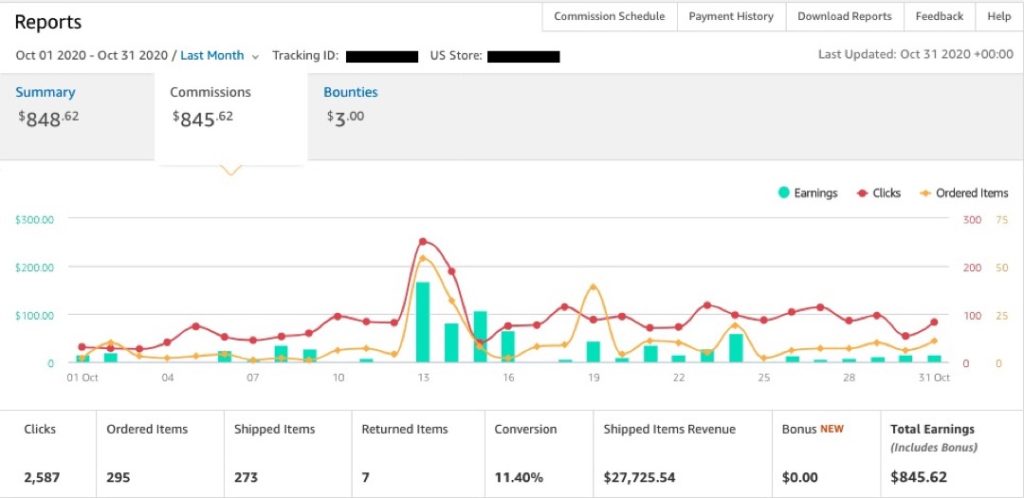 Amazon Prime Day definitely helped with this. Prime Day was two days, Oct. 13th and 14th, but you'll see that there're 4 big green bars of earnings in from Oct. 13th to 16th. Commissions come in after the products are shipped, so not all the products were shipped on the same day as the order.
Those 4 days resulted in $557.03 of Amazon commissions. Not counting the Prime Day sales, that's still monthly earnings of $291.59 and an increase of 303% from September's affiliate earnings.
I'm looking forward to see what happens with Black Friday, Cyber Monday, and the holidays!
Ezoic Earnings
This is my first full month of Ezoic ads after starting with Ezoic in mid-September as part of their first Jump Start program for sites that're under 10,000 visitors per month.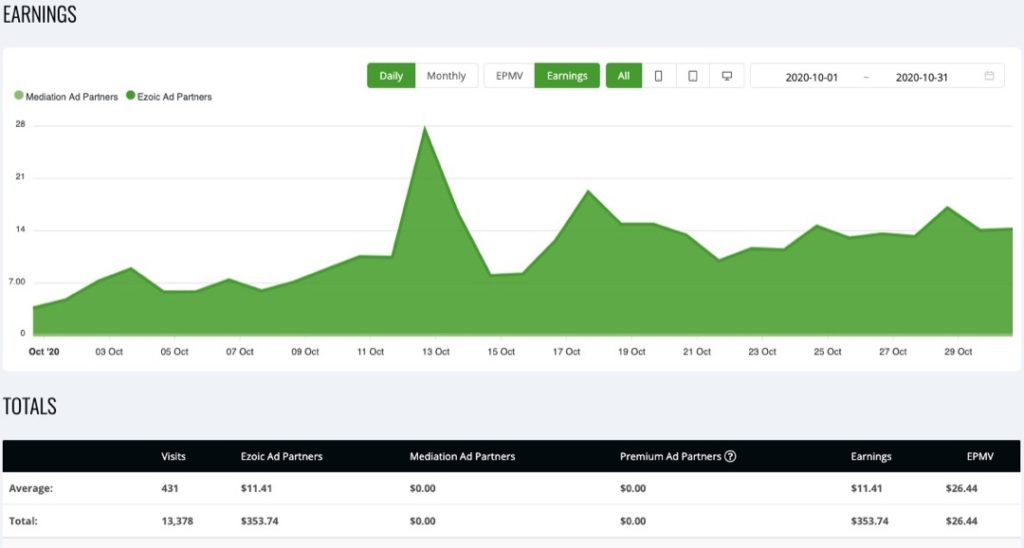 Expenses
My expenses were $961.10 for October. It's high because I'm reinvesting most of the money to create more content and start building links.
I'm writing some articles myself, but outsource the majority to get more content written. I still do all the editing and will put in a lot of time editing and optimizing the content with Frase, a Surfer SEO alternative.
For link building, I'm trying out Niche Website Builders with their Shotgun Skyscraper Link Building service. I'm on their Budget plan, so will see how it goes. That's where the biggest chunk of the expenses comes from.
I signed up with them the end of September and just reviewed the well-written skyscraper article. The first month is the planning, writing, and prospecting. Now that we just started the second month, I hope to start seeing some results from the outreach. It'll be slow-going at the beginning while the emails are getting warmed up. I'll continue to update here.
Plan for November
Going to continue writing more content. Focus will be on broader product topics and then I'll start writing longer tail keywords. I want to test to see how Google treats the site and articles.
Also excited to see what Niche Website Builders does with the link building.
Site 2 – Income Report Breakdown
Site 2 has started to grab my attention the last couple months because posts keep moving higher and higher in the SERPs. It's now at the point where the main money pages are all on page 1.
Site 2 is another purchased site at the same time as Site 1, but from two different places. I haven't put too much effort into this site because most of the focus has been on Site 1. I mainly just worked on On-Page SEO.
When I first got the site, there were 9 live posts and 1 draft post that was only 25% written. The articles were poorly written, so I spent a few days rewriting and optimizing all the posts. All the posts were orphaned too, so I created an internal linking strategy.
Just those actions seemed to help immensely as Google Search Console started showing more and more impressions each week. I'd see the positions move higher and higher.
I also slowly started getting writing additional posts and in the last few weeks, new articles will rank quickly to Page 2 or so.
| SITE 2 | START | MONTH 5 | GROWTH |
| --- | --- | --- | --- |
| Number of Posts | 9 | 19 | 190% |
| All User Sessions | 229 | 2,688 | 1,173.80% |
| All User Pageviews | 645 | 3,022 | 468.53% |
| Organic User Sessions | 79 | 2,278 | 2,883.54% |
| Organic Pageviews | 230 | 2,778 | 1,207.83% |
| Amazon Affiliate Earnings | $0.00 | $709.88 | ∞ % |
| Ezoic Ad Earnings (started Month 4) | $0.00 | $36.75 | ∞ % |
| EPMV | $0.00 | $11.33 | ∞ % |
| Total Revenue | $0.00 | $746.63 | ∞ % |
Google Analytics Traffic
This first screenshot shows the user sessions in Google Analytics from Months 1 to 5, June to October. There's been great growth for a site that I haven't done much with.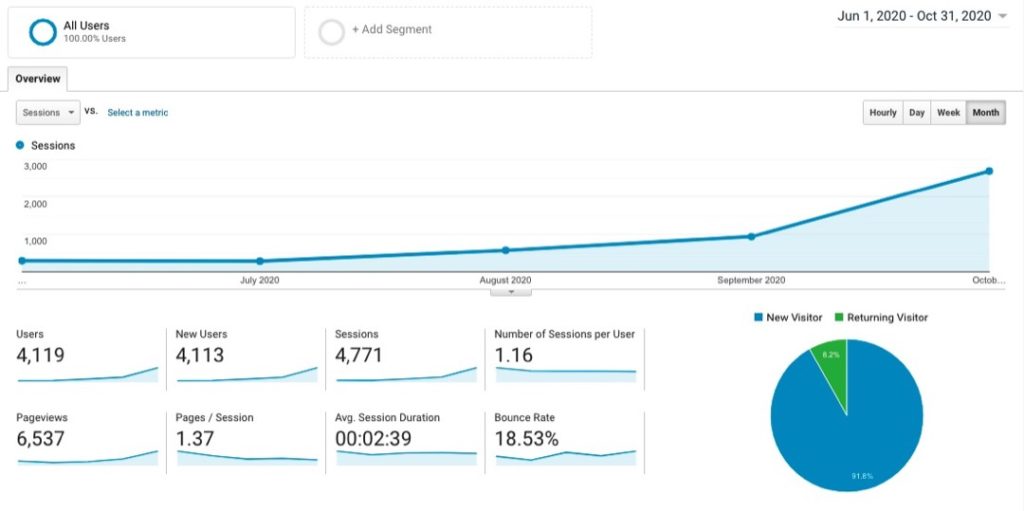 October's user sessions also had a spike on the two days of Amazon Prime Day. What's also interesting here is the growth from the beginning of the month to the end of the month.
Oct. 1 and 2 had 35 and 43 visitors, while Oct. 30 and 31 had 127 and 136 visitors. That's over 300% in visitor traffic growth in the month!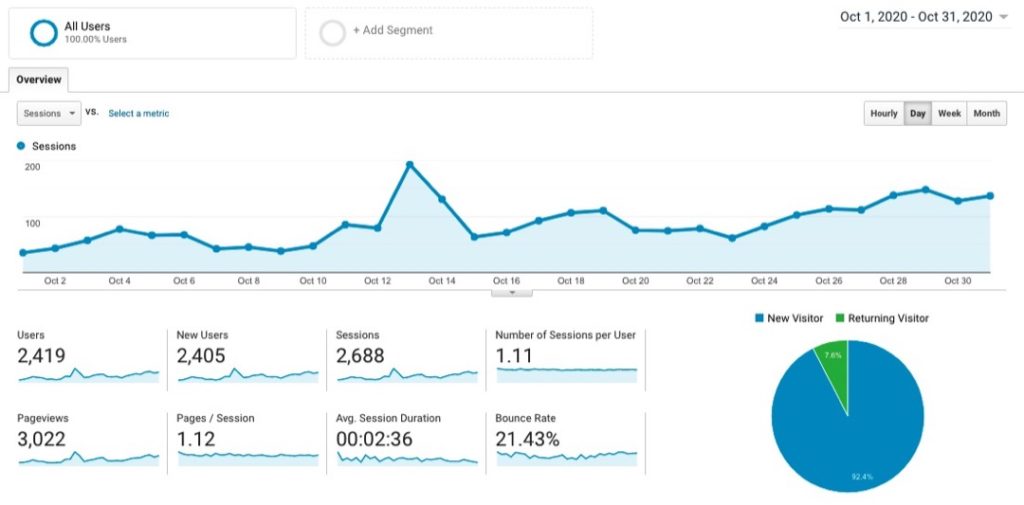 Amazon Affiliate Earnings
It's interesting, I've been seeing more Amazon orders on Site 2 than Site 1. But Site 1 has bigger ticket items, so it still earns more on Amazon commissions than Site 2.
Site 2's niche has various products in two main price ranges: $50-$150 and $150-$300. Majority of the orders are in the lower price range, so the commissions are lower.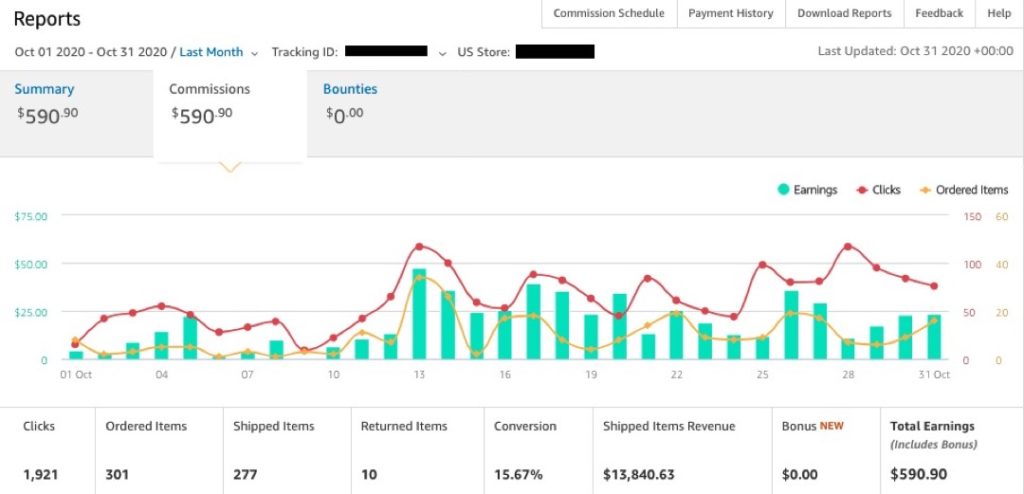 Ezoic Earnings
I started Ezoic in late September with Site 2. October was the first full month of it. It's been making $1-2 per day now in the second half of the month with higher traffic.
I'm a bit more disappointed in EPMV averaging around $11.33 since it's less than half of Site 1. This niche does have lower CPC, so it makes sense that EPMV is lower. That just means I'll need to work harder on getting more traffic to the site to compensate for lower earnings per 1,000 impressions.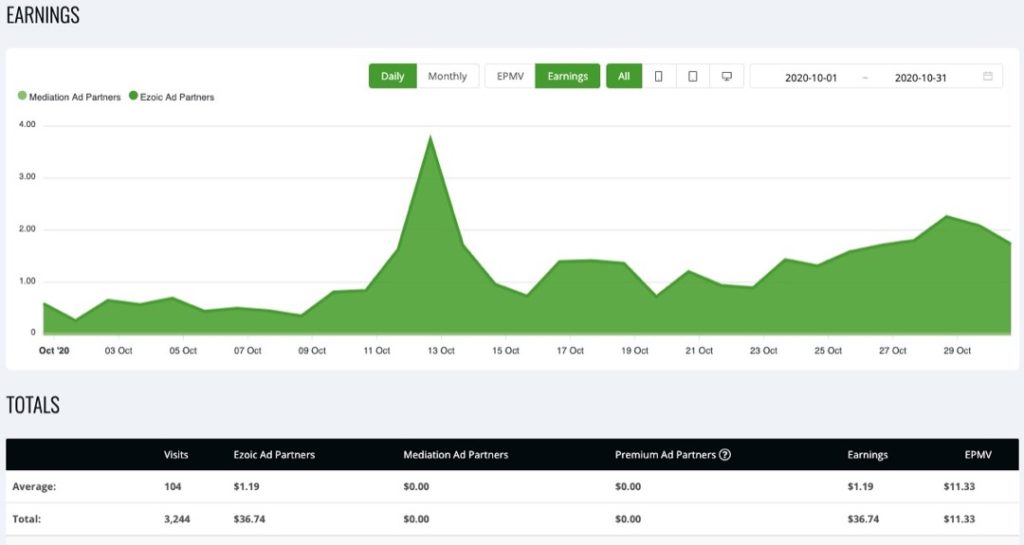 Expenses
The money went to building more content. I didn't outsource all the new articles, but a majority. I also edited all the articles too, so that took time. I wanted to make sure the information was accurate.
Plan For November
More content is definitely in the plans for this site. Need to plan out a strategy for this niche though as it's a bit tougher to come up with article ideas that will get traffic and monetize well.
I'm planning to start building links for this site. Same as with content planning, I also need to lay out a clearer strategy for link building.
Site 3 – Income Report Breakdown
As a newer site, I want to show this as a site that's early in its lifetime, but hopefully starting to pick up.
Site 3 was started the beginning of June on a new domain, but was a 301 redirect from an expired domain I purchased.
This has a longer story that I wrote up for Site 3's case study page, but here's the top line. I purchased an expired domain and started this site in Mid-May on that domain. But the domain and posts I put up weren't indexing.
I decided to purchase a new domain and redirected everything to the new domain in beginning of June. Within a few days of the 301, many more search impressions were already showing up in my Google Search Console.
That tells me that the expired domain I purchased had issues or penalties I couldn't see on it. So I tried Matt Diggity's 301 redirect method to remove penalties. I didn't do a double 301 redirect and my htaccess code is slightly different. I'll share it all in my write-up.
There're lots of things with the site that I wanted to see how they played out. It had more to do with backlinks and indexing theories. I didn't want to put too much into it without confirming that Google sees the site as clean enough for me to put more time and money in.
The idea is to present and follow this as a case study on an expired domain with many mistakes made along the way. I want to share everything to help others avoid the same mistakes on their niche site journey.
Here's the overview of Site 3 and where things stand now. Everything was started at 0, so it only shows Month 5 numbers.
| SITE 3 | MONTH 5 |
| --- | --- |
| Number of Posts | 26 |
| All User Sessions | 355 |
| All Users Pageviews | 413 |
| Organic User Sessions | 237 |
| Organic Pageviews | 290 |
| Amazon Affiliate Earnings | $37.31 |
| Total Revenue | $37.31 |
Google Analytics Traffic
5 months in, growth has been slow, but the trend slope is still up. I'm not expecting much of anything for this site though with the issues that the previous expired domain had with backlinks.
The traffic in July had a little spike for a couple of days. When I saw a jump in traffic those two days, I dug in and saw that it was traffic from trafficbot – referral spam.
Traffic bots are common and specifically the trafficbot one. All you need to do is to exclude/remove them in your Google Analytics settings to only see the real traffic. You'd want to do the same thing with your own IP address, so Analytics is not showing you visiting your own site.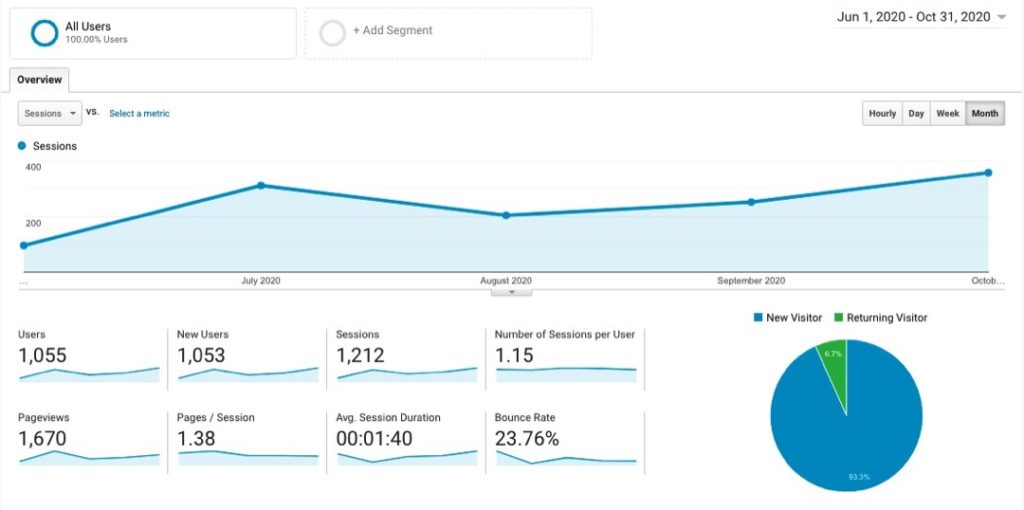 October traffic has been steady and the metrics I'm seeing are encouraging. Average Session Duration is 2 min. and 34 seconds, and bounce rate is only at 20%.
I see that as a good sign, because it shows the content is keeping people on the page and reading. All that time writing and editing was well spent.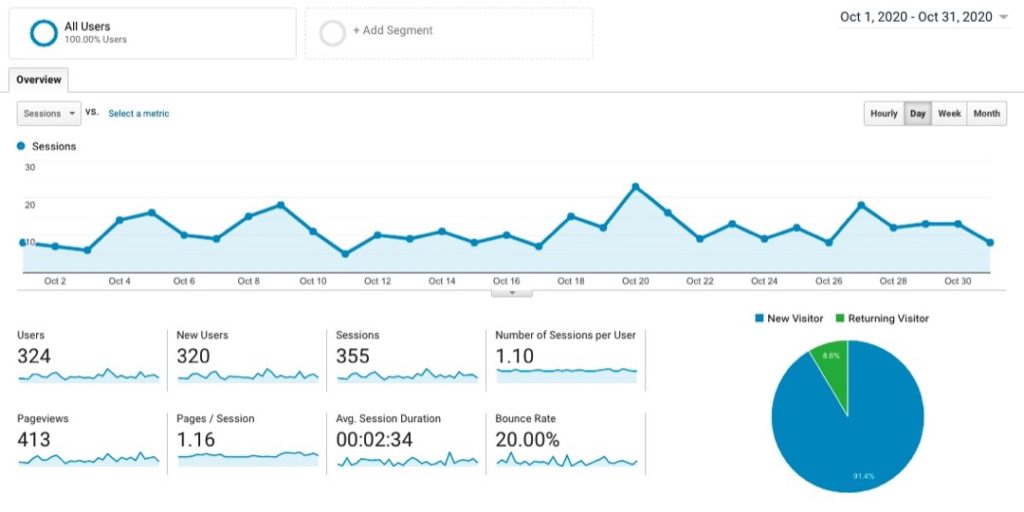 Google Search Impressions
Search impressions have been growing over the last few months, so the avg session duration and relatively low bounce rate will help when posts start ranking higher.
Google will see longer times on the site and lower bounce rate. That will lead to Google trusting the site's content more, which will lead to higher rankings and then more organic traffic.
Total clicks and CTR are low at the moment because the average position is only 46.8. Once that gets higher, the clicks and CTR should go up.
I have 2 posts that're in the Top 10 already for their keywords, so those do get some clicks.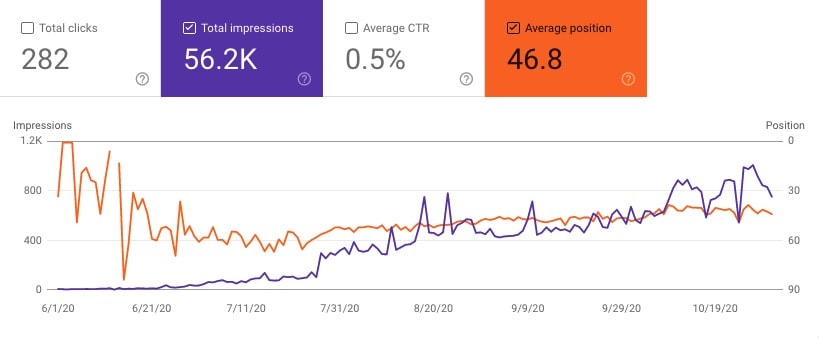 Amazon Affiliate Earnings
The site is currently only monetized with Amazon Associates commissions. There's not enough traffic on it for me to put display ads on. I'd rather keep the design clean and page speed high for now.
I'll consider display ads when traffic is up around 1,000 visitors per month and enough posts are ranking on Page 1 (maybe 2 also).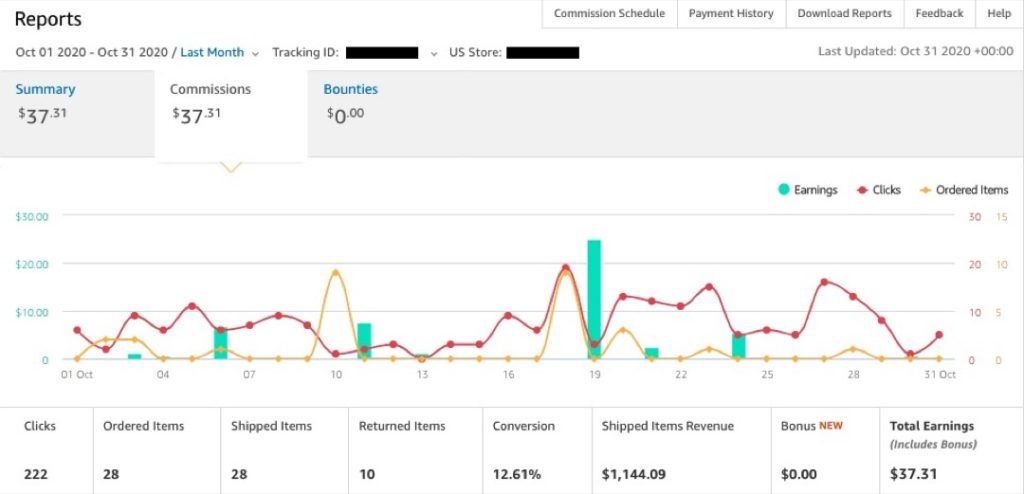 Expenses
Other than the monthly web hosting costs for this site and one article, I haven't spent any money on this site since the first content push in Months 1 and 2.
Plan For November
I'm not planning to do much with Site 3 besides following along for progress. I want to see more progress with rankings before pouring more time and money into this project.
If anything, I might consider some link building for the site to balance out all the backlinks from the expired domain. Will start looking into this and seeing how much I'd need to do to have balance.
If I do see an opportunity for an article, I might sit down and write an article. I still want to put more focus on Sites 1 and 2 to get them ready for the holidays though.
Final Thoughts
That's it. My first monthly income report for 3 affiliate websites. These are the best months yet for each of these sites and I hope they continue.
I plan to continue writing up these earnings reports monthly, as well as writing more about my experiences in growing these sites – the decisions made and the actions taken.
If you want to stay up to date with future income reports and other tips & tricks to help you on your niche site, do sign up for the newsletter in the sidebar form.
---